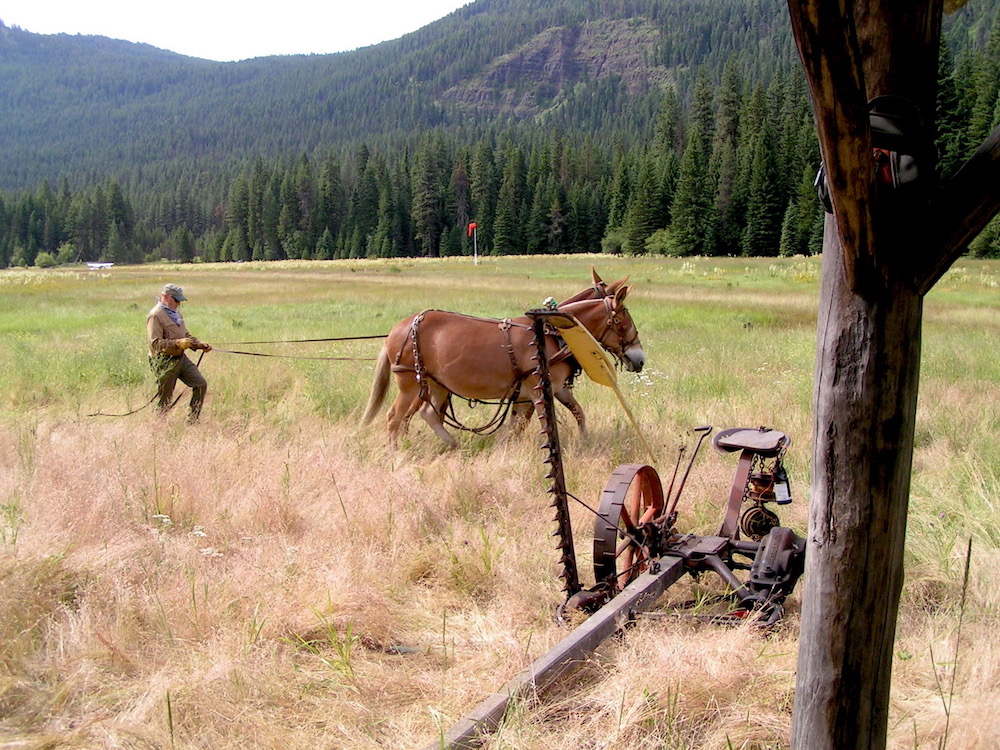 How do you mow the tall spring grass on Red's Wallowa Horse Ranch airfield in Oregon's Eagle Cap Wilderness – without the use of motorized equipment?
You trail in 20-year-olds Bird and Bat, who team up for the kind of job they know well. With just the right experience, these two mules – with Jim and Holly Akenson at the reins – completed the task on July 13, restoring the historic backcountry airfield to a suitable condition for use.
This publicly owned airfield, (6OR9) is managed by the US Forest Service and provides access to a spectacular recreation site, including fishing on the beautiful Minam River. For many years, the non-profit volunteer group Backcountry Horsemen of Oregon had graciously mowed the airfield. This spring, heavy rains brought on exceptionally high grass growth, which was a safety concern. RAF Oregon Liaison Richard Mayes took the initiative to apply for an RAF grant to cover mowing costs, and began looking into logistics.
A 1940s-era horse-drawn mower was on site and ready, thanks to Dick Walker, Backcountry Horsemen volunteer, who has maintained the equipment for many years. RAF Oregon Ambassador Bill Ables secured the mule team and operators, airlifted the harnesses and gear in and out, and physically helped in the mowing all day long, providing invaluable assistance.
The RAF, Oregon Pilots Assoc., Idaho Aviation Assoc., and the USFS collaborated to ensure a valuable public asset was preserved through good old-fashioned teamwork.
See the Airfield Guide for details on Red's Wallowa Horse Ranch.