Fifteen aircraft arrived at Grand Gulch in northern Arizona for a cooperative work party on February 3, called by Utah Back County Pilots and the RAF. Arizona? Yes — there's a bit of a canyon just south of this place, which makes the destination more logical for Utah pilots, since they avoid Grand Canyon Special Airspace. Galen Hanselman devoted seven pages on its fascinating history in Fly Utah. He begins, "A truly grand old mining camp deep within the no-man's land of the Arizona Strip." But it's easily accessed by air, and well worth the flight and short exploratory hike. Enjoy primitive camping and the silence of true desert wilderness.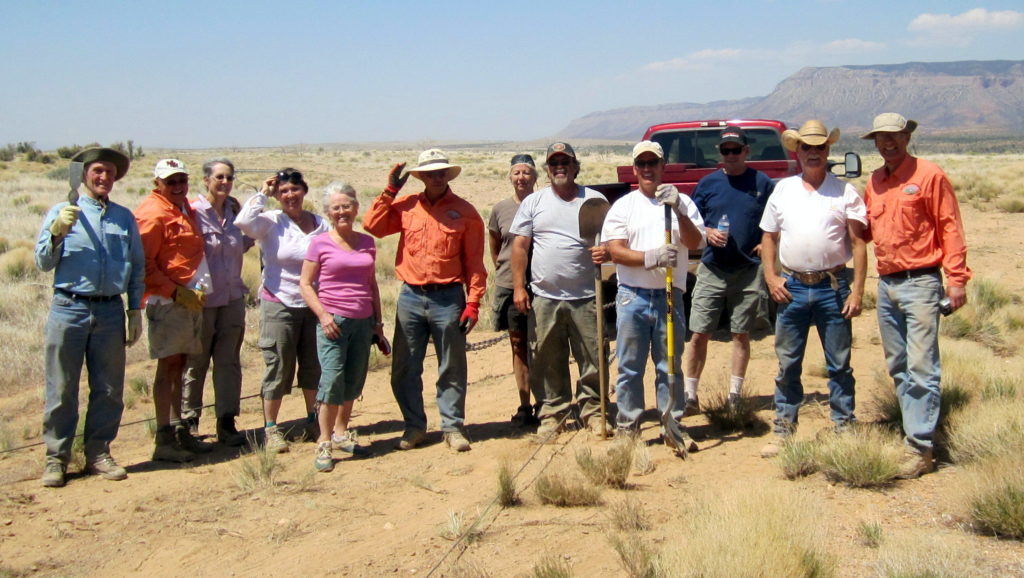 You can poke around in the historic buildings and pose for a selfie in the decrepit Euclid dump trucks that were abandoned at the mine. Originally these trucks were used in the construction of Hoover Dam.
"We get along great with the Arizona pilot groups," RAF Northern Utah State Liaison Steve Durtschi said. "They are pleased we've sort of adopted Grand Gulch." It should be noted that Steve and Cathy Durtschi may have taken longest-distance honors, having flown their C-185 from north of Salt Lake City.
Perry and Sandra Null of New Mexico had already replaced the tattered windsock, and 23 volunteers picked up pulaskis, rakes, and shovels and dug in to remove encroaching plants and rocks from both runways and the parking areas. RAF Southern Utah Liaison Wayne Loeber had communicated with the BLM, and collected their sign-in sheet located on the trail to the old mine site.
Cal Brubaker of Salt Lake and Sky Ranch in Hurricane grilled burgers for the group, and many camped overnight. At its 4,500-ft elevation, the warm weather was most welcome.
Submitted on February 12, 2018