Arkansas State Liaison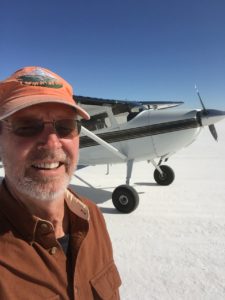 In eighth grade, Harper's dad gave him a book, How to Become an Airline Pilot, then career day in high school "sealed the deal," Harper says. "The job was described to me as something like, 'Fly around the world in fast moving jets with lots of levers, knobs, gauges and important procedures, while wearing a cool uniform and hat, and, oh yes, with beautiful single women'. I was 17 and asked my dad, "Why isn't everyone an airline pilot?"
Four years later Harper flew out of Louisiana Tech University with 500 hours and a degree in Professional Aviation, and went to work for a one-airplane company that didn't make it, but, "I was lucky enough to spend 37 years doing exactly what I wanted to do, all the while trying very hard not to fly close to anything that wasn't real long, real wide and pretty damn flat," he said.
In retirement Harper bought a Cessna 210 to fly between home in Fort Worth, and property in NW Arkansas. A presentation by then-RAF Arkansas Liaison Dave Myrick about the RAF building a new airfield piqued his interest. "Well, the 210 rolled out of the hangar, and in came the Cessna 180," Harper said, thinking, "This should be no problem, with my 20,000 hours of flying time – at least two hours in a taildragger about 40 years ago." He goes on to explain, "Interesting to say the least. We all know how entertaining PIO's (pilot induced oscillations) are to watch. For the rest of the story, just ask around."
Harper now happily flies his 180, with a passion for backcountry flying and the RAF's role in its promotion. "I have found it to be a great and worthy cause involving exceptional people," Harper says.
He and his wife Diane, their dog Lulu and two cats live in the woods three miles from that new Arkansas airfield, Trigger Gap.
Harper can be reached at hgoodwin@theraf.org.