INAUGURAL MIGRATORY BIRD FLY-IN AT HAVANA REGIONAL AIRPORT
RAF Illinois Liaison Mike Purpura recently applied the RAF mission in a very unusual way. His goal was to demonstrate the value of recreational aviation and its economic benefit to the City of Havana, IL, and allow aviators to witness an incredible wildlife event.
To most aviators, Havana (9I0) – Niner India Zero – may not seem like the ideal recreational destination. Mike points out that Havana has one of the largest complexes of wetlands and bird refuges in the world and hosts hundreds of thousands of avian visitors during fall and spring migrations. So why not invite our type of aviators to join in? he mused. He raised the "Migratory Bird Fly-in" concept in meetings with Havana's Mayor, its Economic Development Director and Port Authority. The inaugural Migratory Bird Fly-in took place on March 11, and hosted eleven aircraft and 25 people from Illinois, Indiana, Ohio and Wisconsin. They were greeted by Bob Martin who had hot breakfast ready for them.
Publicity began in January, and assisting Mike was EAA Chapter 1420, and Bob and Wendy Martin of the Mason County Democrat. RAF Director Mike Perkins notified other EAA Chapters. General Aviation News covered the event in "The Pulse of Aviation". Aircraft Owners and Pilots Association (AOPA) published an article about the fly-in. Simply Fly Adventures, AVWeb, Ladies Love Tail Draggers, and the 99's all publicized the fly-in at Havana.
After breakfast, the group was transported to Emiquon Wildlife Refuge."We were fortunate to have a very knowledgeable zoologist in Mr. Jake Randa," Mike said. "As a bonus, Mr. Randa set up an owl call and, as if on cue, a Barred Owl came swooping in to protect his territory."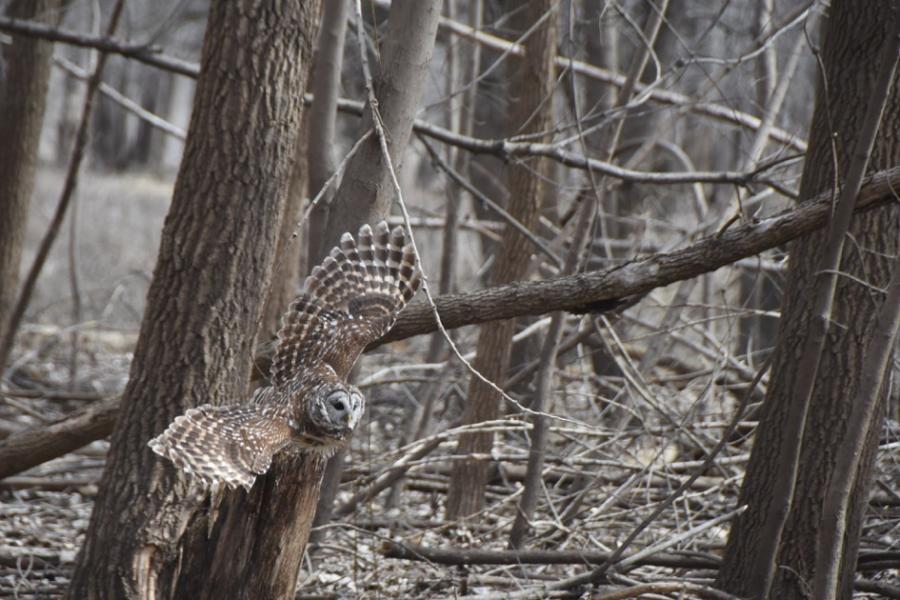 After a good meal at Grand Pa's the group was returned to the airport for departure.
"Havana and Mason County are blessed with resources, natural and human, that can draw people in for a visit," Mike said. He envisions a renewal of Havana's old Cigar Festival. "It's a natural to combine with a History of Havana walking tour of Main Street." Wildlife events occur throughout the year. For fly-in hunters there are opportunities for upland birds, waterfowl and deer.
"The Migratory Bird Fly-in was a strictly volunteer-run event," Mike said. "Its success came about because of the participation of others, including the City of Havana, Fish and Wildlife Service, Emiquon Wildlife Refuge and EAA Chapter 1420," Mike pointed out. "On behalf of the RAF, I want to thank everyone for their help on this Inaugural Fly-In. Participants want to be notified of future events."
Mike has his eye on improvements, and remains in contact with the City. He wrote them:
"Havana Regional is a perfect location for a Short Take Off and Landing (STOL) clinic. The dozen or so pilots would spend two or three nights in Havana, eat meals and buy fuel.
Like any gateway to your city, your airport should make a good impression on visiting pilots. The pilot's lounge is first rate, runway lighting is excellent and the tie-downs are great. Two items that could be improved are the windsock and adding 100LL fuel. Further amenities to consider would be a camping area, pavilion and fire ring.
It has been a pleasure for this RAF State Liaison to get to know the folks that call Havana home, and to participate in this modest effort to breathe more life into your beautiful airport. Please count on the RAF for continued support."

Submitted On March 23, 2017.