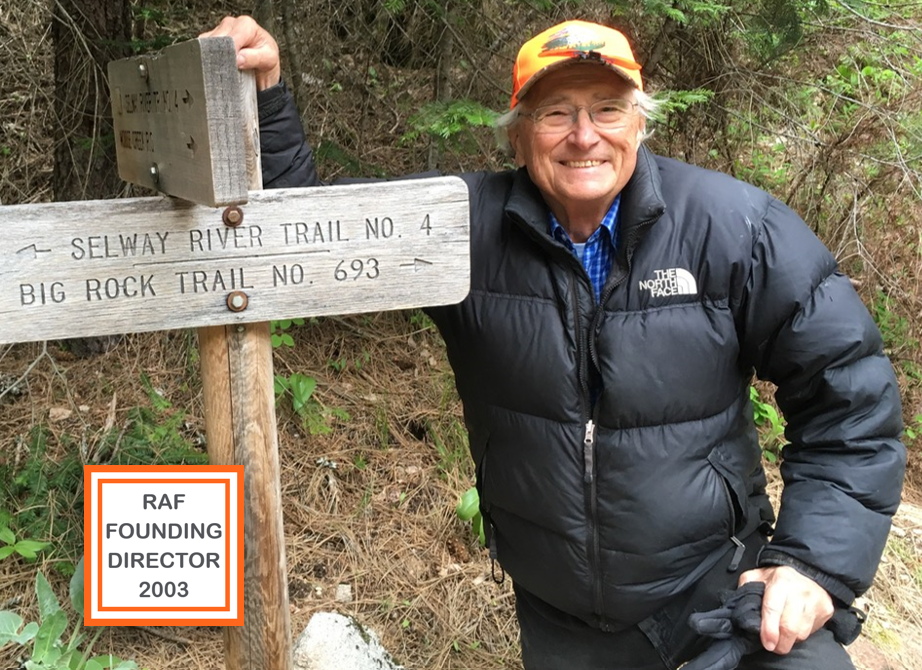 "When I raised my hand at a Montana Pilots Association's Directors retreat in Bozeman in September of 2003, I had no idea what I was getting myself into," Jerome "Jerry" Cain says of his role in the eventual formation of the RAF.
Jerry, as one of the original six Founders, tapped his Defense Department Federal Executive experience and lost no time completing the application for the RAF's official Montana State and federal 501(c)(3) nonprofit public charity status. By December 2003, the RAF had the credentials to solicit tax-deductible donations. "Jerry was one of those who stepped up and said, "I got this," and his knowledge and follow-through were invaluable, laying the groundwork for success," RAF Chairman John McKenna says. Jerry then volunteered to take on the vital task of Secretary/Treasurer on the RAF board.
During fundraising efforts for backcountry airstrips, Jerry and his wife Liz, both animal lovers, donated dog sled rides around their Lincoln, Montana home. "By the end of 2004, we had about $15,000 in the bank and a roster of several hundred," Jerry recalls. By the time he retired from that role eight years later, RAF membership had grown to several thousand, from all fifty states and about a dozen foreign countries. "I was spending ten to fourteen hours almost every day trying to keep up with it," he adds. "It's extremely satisfying to observe how the RAF is progressing and growing."
Jerry and Liz purchased their retirement ranch a few miles west of Lincoln in 1990 and are devoted to their horses. Liz is a published authorwww.elizabethcainauthor.com, and is passionate about poetry, music, and horses. She campaigned by horseback around her Montana House District during her two runs for State Representative.
The Cain's ranch purchase included a hangar at the Lincoln Airport, S69. This motivated Jerry to earn his pilot license in 1993. Having recently sold his Cessna 182, Jerry still keeps his Husky in his hangar there, and
organizes an annual barbecue potluck in July for the local and flying community. Fly-in visitors are invited to camp in the adjacent campground along the Blackfoot River, and hike or bicycle the short distance into town and tour the unique "Blackfoot Pathways Sculpture In The Wild." Montana Aeronautics Director Tim Conway says, "Although much of the [airport] funding is provided by the FAA and Montana Aeronautics Division, most of the labor is provided by a network of local volunteers, headed up by Jerry. The volunteers play an important role as the airport's eyes and ears to maintain its safety and usability." In 2019, Jerry formed the Lincoln Airport Foundation (LAF) as a 501(c)(3) public charity to formally assist the state in the maintenance and improvement of Lincoln Airport. Since then, the airport has remained open year round. Snow storms may close it – only until the volunteers immediately take on plowing to re-open it.
Jerry serves as a volunteer pilot for Pilots N Paws, flying shelter dogs to their new homes. Since 2017, he has personally taken on the task of coordinating rescue flights throughout the northwest (WA, OR, ID, MT, and WY) to and from all over the country, successfully completing transports five to six times each month. He recommends that pilots register with PNPwww.pilotsnpaws.org.
Jerry still loves backcountry flying in his Husky, and as RAF Director Emeritus, Jerry monitors RAF activities. "I could not be more proud of the RAF's accomplishments, the Directors, and all the other volunteers who make this all possible through their generous support of both their time and their dollars. The RAF is now nationally recognized as the 'go to' organization for anything related to recreational and backcountry airstrips."
Submitted on August 10, 2023.
By Carmine Mowbray