MARCY FIELD SAFETY PROJECT COMPLETED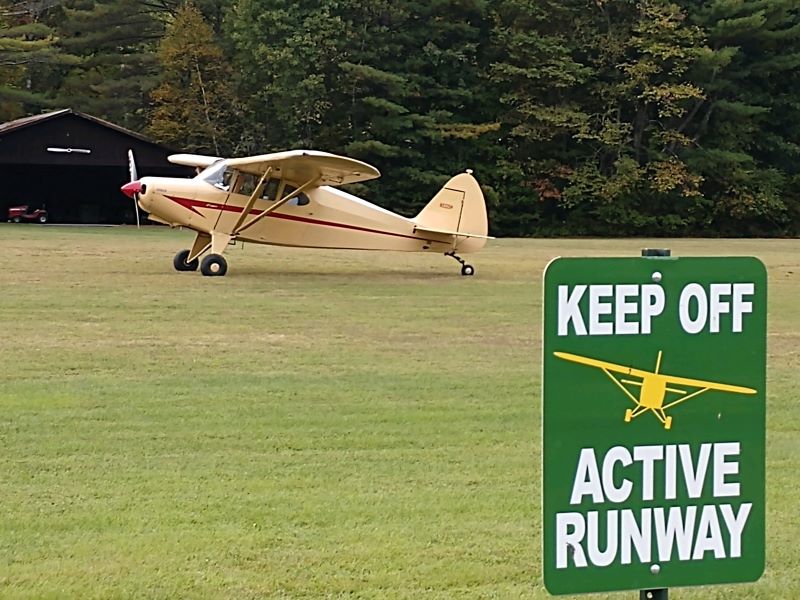 The second successful cooperative project between the RAF and the Town of Keene has been completed at Marcy Field, (1I1) a 2,390 turf airfield near Keene, NY in the Adirondacks. The field lies in an area popular for recreation and the summer farm market. "There is world class fishing on the Ausable river and local outfitters are within a mile for your needs, as well as guides. There are many trailheads to the mountains in the area," RAF New York Liaison Doug Turnbull said. He was concerned about the potential for aircraft and vehicle or pedestrian encounters on and near the runway. He used an RAF grant award to purchase durable aluminum signs that have been posted along the runway to protect users. Town of Keene workers installed the signs.
"The project with the signs came out better than well – it came out great," Assistant Airport Manager Bob Rose said. "You are a fantastic organization and you have done a lot for Marcy Field, " Rose added.
In 2020 an RAF grant was used to remove encroaching trees and brush. The Town provided equipment and manpower, and Adirondack Aviators volunteers helped accomplish the work.
"This greatly enhances the RAF mission by improving safety at Marcy Field," Turnbull said.
Find details about Marcy Field in the Airfield.Guide.
Submitted on September 27, 2021.