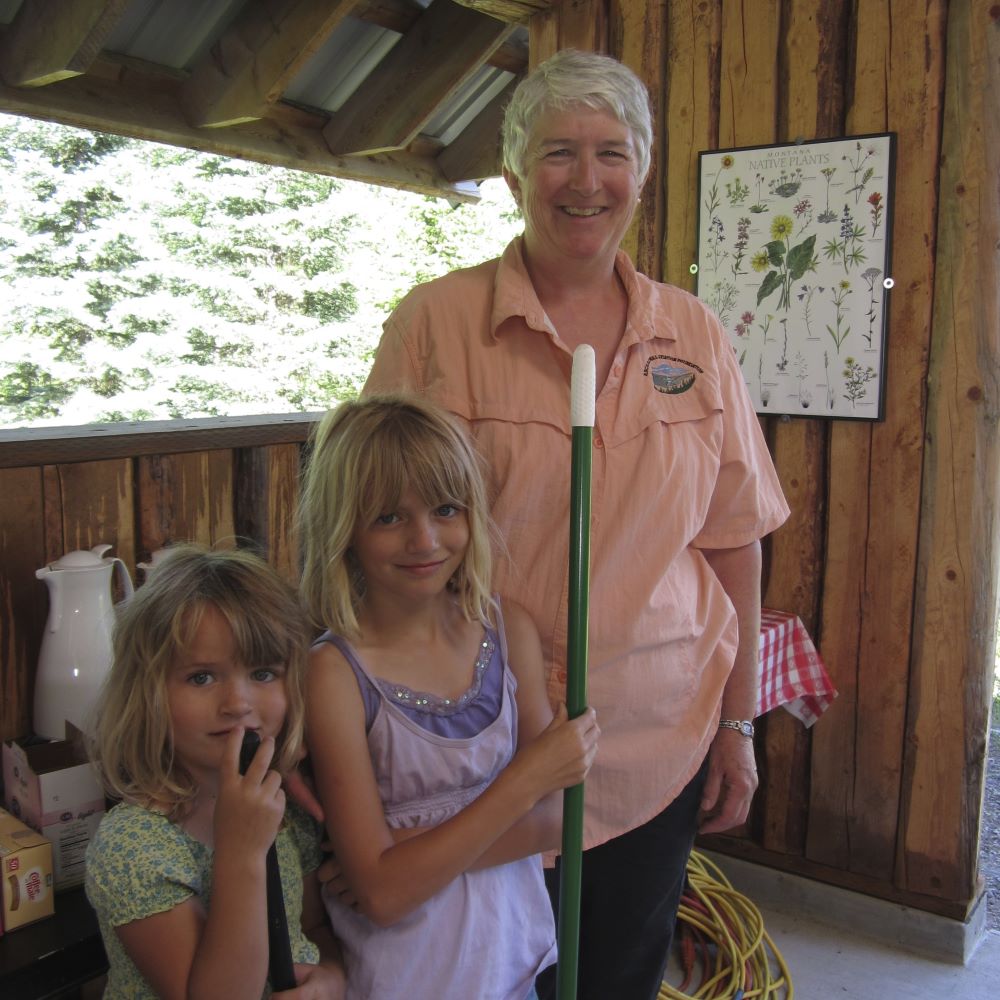 To say Margie Prill is husband (and RAF co-founder) Dan's "backup" is true, but it only tells part of the story. "We hosted a burger barbecue in our hangar in Sand Coulee way back in about 2002. More than a dozen folks came, and the topic was backcountry recreational flying, and building interest in preserving airstrips," Margie says. Does that sound like the next step after those six guys sat around the campfire and decided to save airstrips? It was an essential step for an organization that now includes over 11,000 people – an organization that's logged innumerable success stories from coast-to-coast.
Margie's hardly taken off her apron since. The RAF gathered momentum and throughout the years a lot of the gathering included meals cooked on wood stoves, or in kitchens across the country where Margie helped feed RAF volunteers on site for conferences, trade shows, and fly-ins. "The AOPA convention in Tampa is where we met Tim and Ann Clifford," Margie says. Tim became an early RAF Florida Liaison; then Director.
If not cooking, Margie has staffed the RAF booth at trade shows and conferences. Anyone who's enjoyed a Ryan Fly-in would have seen Margie and Dan serving as "ground crew", hauling supplies, maintaining facilities, and if time permitted, relaxing at the end of the day, maybe with their sons, daughters-in law, and grandkids. Early RAF photos featured the darling girls, just a little taller each year. A retired Special Education and Elementary teacher, Margie was the perfect one tasked with keeping all the kids who came to Ryan safe among the flying activity. She entertained them with creative games, treasure hunts, and projects. Even today, Ryan Field visitors are greeted with painted rocks with welcoming messages.
One of her favorite activities during the Ryan Fly-in was organizing the wood stove cook off. "My granddaughters entered, so I had to find judges," she says. The event was popular with everyone when the results of all the baking were turned out to cool, and enjoyed. "It was a rainy weekend, so gathering in the pilot shelter around the wood stove was cozy and wonderful," she recalls.
Another volunteer job is writing thank you notes since becoming an RAF "VP's of Appreciation in 2016.
For 17 years, Margie helped Dan host at the rustic cabin they co-owned with Dan's brothers on Prill Lake in Saskatchewan, only accessible by floatplane. They supplied the place for guests at Ft. McMurray, Alberta, then either chartered a floatplane in, or Dan arrived in his Cub on floats. "He only had room for supplies OR me," Margie says. So she would make the 12-hour drive to Ft. McMurray from their Sand Coulee home near Great Falls, Montana, then get a floatplane ride to the cabin. Guests enjoyed their days fishing for walleye, lake trout, and northern pike on the pristine lake, topped off with Prill's fish fry, with corn on the cob, and Margie's blueberry pie.
Few know that before all this, Margie had a short career as a carnival worker. Her father, always dreaming of creative ways to earn a living, bought a Ferris Wheel and a merry-go-round from a carnival with a partner and they put their eight kids to work operating it, even under the lights on summer nights. The kids handled the money and loaded and unloaded riders. "I learned a lot about working, and had a lot of fun," Margie says.
Now the Prills enjoy wintering in Arizona where Margie serves her Westpark Resort residential co-op as treasurer, and knits beautiful baby afghans to give friends who are welcoming newborns into their lives. She and Dan enjoy tooling around Arizona on their side-by-side and have met many new friends along the trail. For 40 years she has taught bible study and continues; and as of 2022, has been married to Dan for 50 years. They still are very active in aviation, as Dan and his pilot-son Ted recently completed an RV-7 in Dan's shop at home in Sand Coulee.
Prill's son Tom, also a pilot, and his wife Krista live in Billings, Montana, and those two "little" girls that folks watched grow up during visits at Ryan Field? One is in college and one is a high school sophomore as of this writing. Tom's twin Ted and his wife also live in Billings. Son Danny and his daughter live in Sand Coulee where he drills water wells for his living. Daughter Shelly lives in San Diego. After fulfilling active duty at sea, she's in the Navy Reserves refurbishing ships.
"I've met so many wonderful people and have had such a good time," Margie says, of her varied career and pastimes. So you may see her and Dan on the trails in Arizona, camping at a backcountry airstrip, or in their fifth-wheel anyplace, USA. Tip your hat to one – no two – very good friends of the RAF.
By Carmine Mowbray