NEW MEXICO VOLUNTEERS IMPROVE NEWLY-OPENED SACATON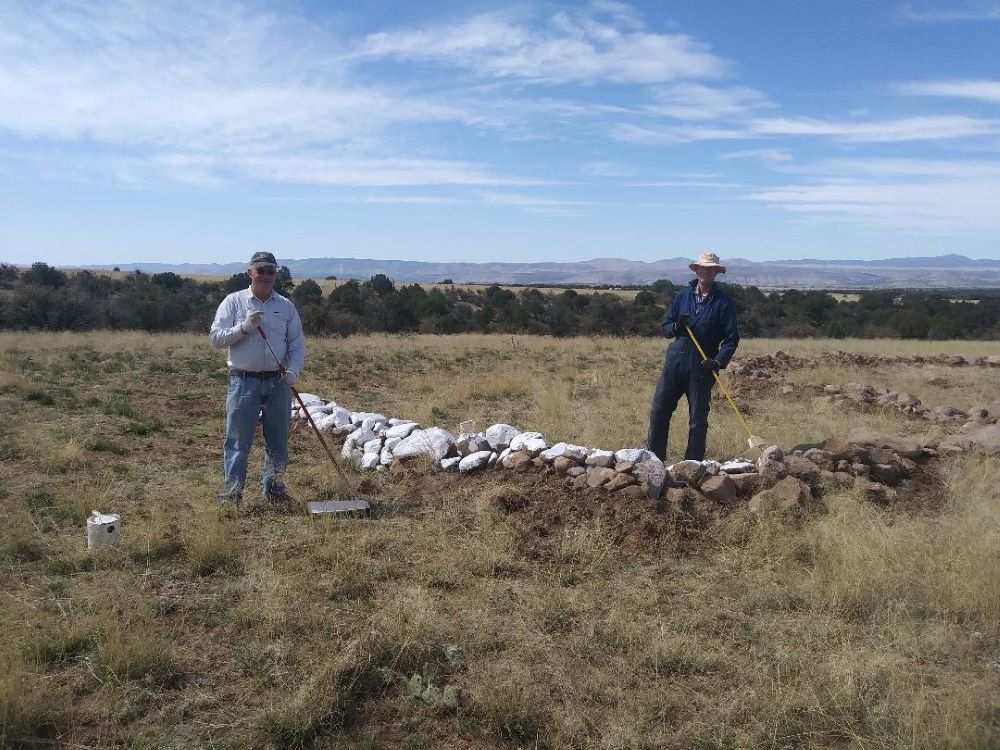 Once the USFS District Ranger deemed Sacaton "re-opened" last January after it had lain dormant and overgrown for decades, RAF New Mexico Ron Keller lost no time organizing help to improve it and make it safer and more appealing for recreation.
On the weekend of April 13-16 Keller gathered three volunteers to work on the airstrip, NM16 near Buckhorn, New Mexico. Keller arrived on Thursday, towing the large New Mexico Pilots Association enclosed trailer with tools and some modern conveniences. "I stopped at every cattle guard on the dusty county road – eleven total – to verify each was at least fourteen feet wide to be sure the semi-truck can deliver the vault toilet to the Rain Creek trailhead," Keller said, in advance of its installation scheduled in the fall. Keller dragged the runway and set up camp in anticipation of the other volunteers' arrival.
Friday the winds prevented anyone flying in, so RAF Supporter and NMPA member Randy Roth drove his Jeep to Sacaton with NMPA member Jim Gosney. "The three of us got busy painting the segmented circle around the RAF windsock," Keller said. "The circle is made from the repurposed large rocks that had formed an "X" in the middle of the old dormant runway," he explained. They tossed rocks from the runway that had been dislodged by the dragging process. All but Keller drove back home.
Saturday's weather was perfect, so Randy and Jim flew the 30-minute flight back to Sacaton, followed by RAF Supporter and NMPA President John Lorenz, arriving after his two-hour flight.
With the painting complete, they tossed more rocks and hand-cut channels for water drainage. "John and I checked out the Rain Creek Trail into the Gila Wilderness, America's first federally designated wilderness. It will celebrate one hundred years in 2024," Keller pointed out. He reports that the mile and-a-half trail to the crossing at Rain Creek is narrow and challenging.
They packed up camp and returned home Sunday, leaving Sacaton in much better condition. Prior to landing, permission is required by calling USFS Gila Dispatch Center at 800-538-1644. At its 6,200-ft elevation, pilots should be mindful of density altitude. You may find more information in the Airfield Guide and a Safety Briefing at the New Mexico Pilots Association website.
Submitted on April 25, 2023.