NEW RAF BRAND IS MORE THAN A LOGO
Not long after those six fellows came up with the idea to form a nonprofit foundation to save backcountry airstrips, one of them bumped into a graphic artist – not surprisingly – at the Bozeman airport. The artist enthusiastically sketched an idea on a napkin. The design was quickly adopted by the new Recreational Aviation Foundation as the logo you've seen on shirts, caps, vests, towels, windsocks, barbecue aprons, even engraved on pancake turners. The taildragger, trees and mountain, circled by the words "Recreational Aviation Foundation" captured the passion of the organization, and served as the RAF's signature for over fifteen years.
As the RAF grows, leadership has been thoughtful about the RAF brand and has carefully considered the need to evolve as a few strong factors emerge. Our membership is more familiar with mobile devices, expects easy access to digital content, and appreciates ever-clearer, simpler imaging. RAF leadership recognized that its messaging needed to step up to this reality, while retaining its original purpose.
RAF Director Todd Simmons led the project, driven by these objectives:
to ensure we continue our successful work making a significant impact on backcountry airstrips for our present and future members;

to create a meaningful guidebook and filter for all decisions. The evolved brand aligns every objective, strategy and decision, reinforcing and elevating our mission.
Todd's team adjusted the RAF brand to better reflect an organization poised for future success, and the original logo evolved into the cleaner, more dynamic image you see now. "This change reflects much meaningful and thoughtful input. We have stayed absolutely true to our foundation, our diversity and our legacy," he said.
The exercise also resulted in a new asset, attached here, called a "brand book". The 20+ page document consolidates all the ideas of the RAF with regard to our mission, our vision, our values – basically, our purpose and passion. The book is a virtual lens through which all RAF leaders, liaisons, ambassadors and members can view our work and our goals. Please take a look and let us know your thoughts.
A team has also streamlined the website so content is more readily available on mobile devices. We think you'll really like the simplicity as you continue to tap this valuable reference.
One thing remains steadfast: "Our pledge to remain true to our soul," Chairman John McKenna says. "We began by sharing stories and making friends around a campfire, and we won't venture from those roots."
Another thing remains — that wonderful, head-turning orange!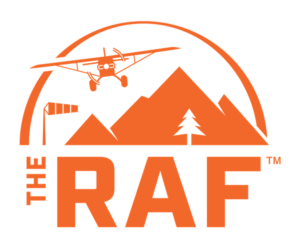 We are proud to reveal this work to you today. Thank you, everyone, for your commitment and support to preserve, maintain, and create airstrips for recreational access.
Submitted on July 30, 2019