NORTHWEST AVIATION CONFERENCE WELL ATTENDED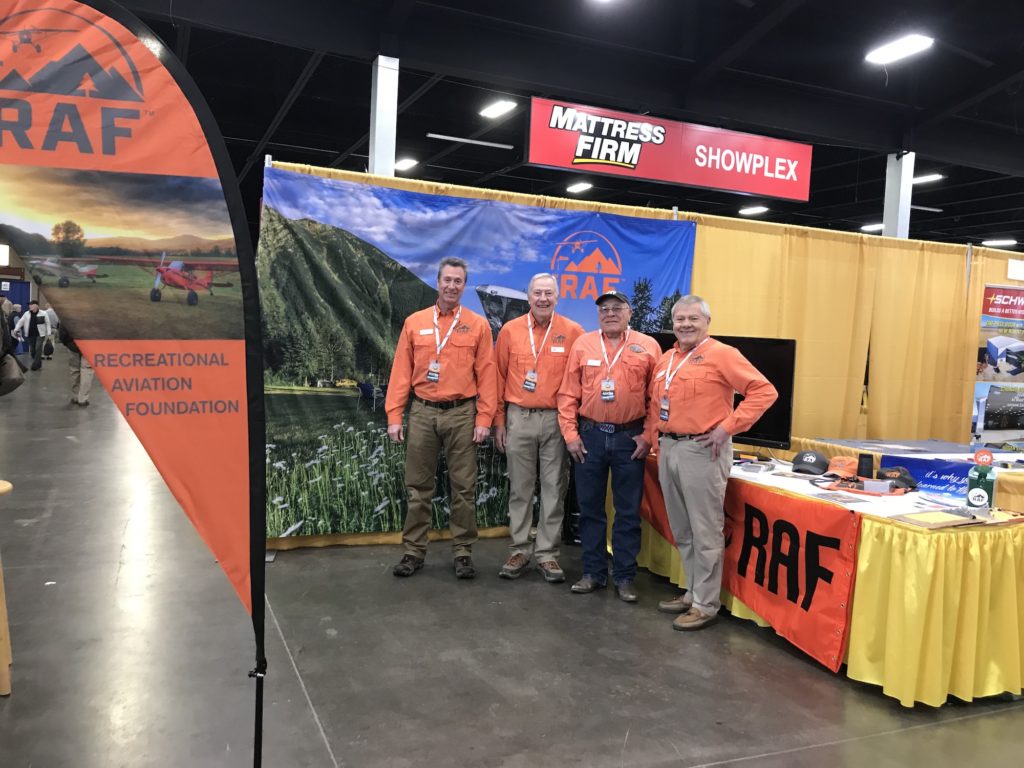 The 37th annual Northwest Aviation Conference took place February 22-23 at the Washington State Fair Events Center in Puyallup, and orange-clad RAF volunteers were there, answering questions and signing up new members.
Volunteering at the RAF booth wearing orange were RAF President Bill McGlynn, RAF Secretary/Treasurer Mike Perkins, RAF Washington Liaison Dave Whitelaw, RAF member John Whitelaw, RAF Oregon Liaison Richard Mayes and his wife Sarah, and RAF member Ray Ballantyne.
McGlynn gave a presentation to a captive audience on "Why Backcountry Flying is Important to the Future of Aviation."
There were 400 display booths and static aircraft displays, exhibiting every aspect of General Aviation, including equipment, aircraft manufacturers, recruiters, resellers, and associations. Members of Boeing's flying club were there, and one of the young instructors stopped by and introduced herself at the RAF booth. She suggested the RAF do a presentation for the club.
"The best day was Saturday," McGlynn observed. "The RAF booth was packed almost all the time," he added. Sunday's storm dampened attendance somewhat.
"It was an excellent show," Dave Whitelaw said. Especially popular were the videos of backcountry landings at the RAF booth.
"I really enjoyed meeting so many RAF supporters, some from sixteen years ago," McGlynn said. "It was great to connect with the Director of Aviation for Washington State, David Fleckenstein. We also met with several airfield owners who wanted to open their strips to the public and appreciated the tips we provided, and our resources online."
Submitted on February 27, 2020