OCTOBER FEATURED AIRSTRIP: CUSTER STATE AIRPORT, SOUTH DAKOTA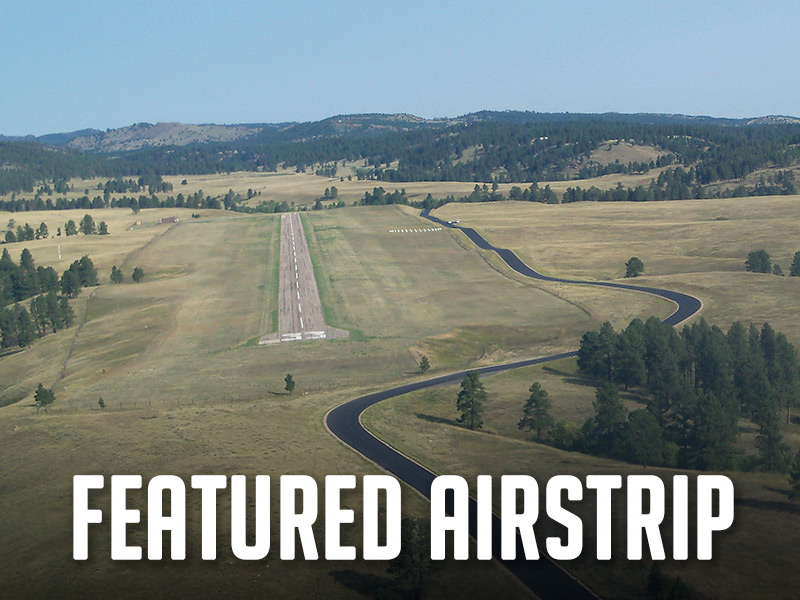 Each month we highlight an airstrip with hopes that you will get out and enjoy these special places. This month, we're featuring Custer State Airport in South Dakota.
Visitors to South Dakota's Custer State Park will find adventure between its nearly black granite outcrops and the soft green of its rolling plains and forests. Open year-round, and encompassing 71,000 acres in the Black Hills, this area and its wildlife is worth exploring. The annual Buffalo Roundup and Arts Festival takes place in late September. Visit the Museum/Visitor center for more information about opportunities in the park such as horseback riding, swimming, fishing, boating, biking, birdwatching, or for the hearty, snowshoeing. Buffalo viewing safaris are available seasonally. The good news is that within the Park is a 3,900-foot runway and plenty of room to camp. Or set up your camp chair and take in the dark skies scattered with a palette of sparkling stars.
Daylight offers plenty of hiking trails nearby. The Barnes Canyon Trail is one of the premiere trails in the park and the east trailhead is literally adjacent to the airport, as is the French Creek trailhead. The State Game Lodge is two miles from the airport and offers accommodations in the park for those who would prefer a rustic 1920s era lodge experience. Known for its grand, historic character and tradition, the Lodge served as President Calvin Coolidge's summer white house in 1927.
However, the airport is in jeopardy of closure. The State is faced with high maintenance costs, not reimbursable by the FAA. The RAF, AOPA, and South Dakota pilots are working hard to find cooperative solutions, and volunteers have offered to step up to help. 
In the meantime, the RAF encourages putting Custer State Park Airport on your itinerary, and watch for further developments.
Find it here in the Airfield Guide.
For information on the State Game Lodge, click here.

Written by Carmine Mowbray
Submitted on September 28, 2023.