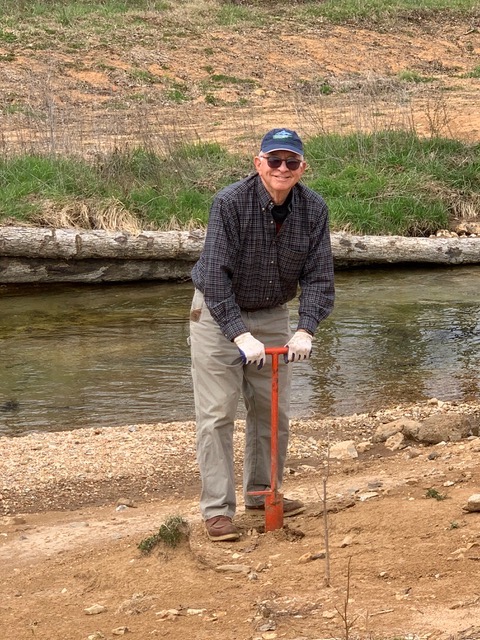 After years of experience flying his Boeing Stearman, Decathlons, an RV8, his award-winning 1943 Howard DGA, and a variety of other aircraft, RAF Ambassador Presley Melton of Arkansas says he has the most fun in his open-cockpit AirCam.
Years ago, Presley journeyed out west in his RV8, enjoying Idaho's groomed turf airfields, but realized he wanted something that he could safely take into more backcountry places. He decided on the AirCam, an aircraft that was originally a one-off creation, specifically built to fly photographers over Africa's jungle canopy, where a forced landing could drop you near the den of a hungry lion or poisonous snake. It provided the safety and redundancy of two engines and a very slow stall speed. "It's like flying a canoe, or a motorcycle. Your elbows are out in the breeze and the view is incredible," Presley says. Due to public demand, the AirCam design was turned into a kit, and there are now several hundred flying.
"It's a long way to Idaho from Arkansas at eighty miles an hour, though," he added, and now Presley has a Murphy Super Rebel, that he describes as an Experimental Cessna 180. The faster Murphy with an enclosed cockpit makes very long trips much easier. He looks forward to many more years of recreational flying. "Flying is a team sport" he says. When he announced his plans to fly to Big Bend National Park in Texas, "which is on the way to nowhere else," he was joined by seven other aircraft. "I've been very blessed to have made a bunch of friends through aviation," he says.
While enjoying South Carolina's Triple Tree fly-in, he was invited to join Mark Baker and John McKenna's breakfast conversation and became motivated to help the RAF and its mission. Presley retired from a three-generation business, having turned his casket sales business over to his two sons. Now he typically flies between 120 to 150 hours per year. It is very likely RAF members will spot him in any one of his current airplanes at an event.
Presley and about ten other pilots and family members volunteered recently to assist The Nature Conservancy on a restoration project along a tributary of the Kings River in northern Arkansas. The group planted hundreds of trees. "It was our way to give back, in appreciation for what The Nature Conservancy has given us," he said, referring to Trigger Gap, (17A) the airfield that the RAF and Arkansas volunteers created near Bentonville on land leased from TNC.