PRODUCTIVE NEGRITO WORK PARTY PLEASES USFS
Over the weekend of May 3-6, the New Mexico Pilots Association sponsored a work party at USFS Negrito Airstrip (0NM7) in New Mexico to replace thousands of feet of downed cattle fence surrounding the airstrip.
The event was hosted by New Mexico RAF State Liaisons Larry Filener and myself; both us are also actively involved in NMPA.
Due to the RAF's magnificent efforts in Washington, DC, special funding became available to the USFS for maintenance of their backcountry airstrips. The Gila National Forest Reserve Ranger District, led by District Ranger John Pierson, secured some of this funding to purchase the needed fence materials. A swarm of volunteers flew or drove to Negrito Airstrip during the weekend, including many RAF members. Some of the attendees were eager to mentor and others eager to learn the fine art of fence building. Five USFS employees, including Mr. Pierson, actively worked and provided oversight on the fence replacement.
One volunteer, John Bush, flew in from California in his Cessna 170. That is admirable of itself. However, John had back surgery just a few weeks ago, and was working as hard as anyone on the fence line. It made it very hard for me to complain about my aches and pains.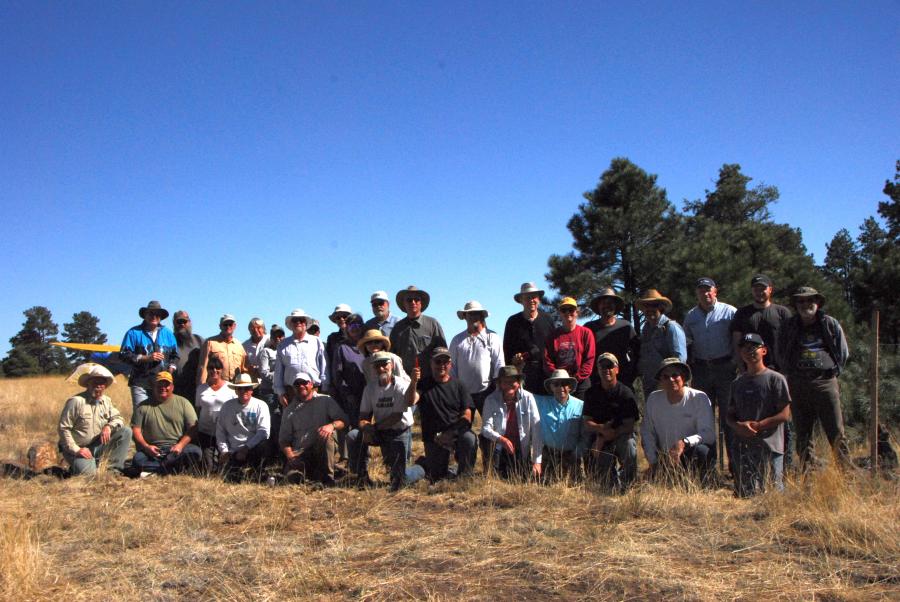 Over the course of the weekend, 33 people and 15 airplanes made their way to the "Jewel of New Mexico Backcountry Airstrips". Several off duty USFS personnel were able to snag an airplane ride from RAF members Chuck Denison of Wyoming, who took young wildland firefighters, and Chris Wilson of New Mexico, who took a Reserve District employee.
Ranger Pierson was very pleased with the work accomplished, including replacement of over 3,500 feet of fence, replacement of the South windsock, and painting of all the runway markers on runway 03/21.
One satisfying event was the posting of the "The RAF Supports This Airstrip" sign. Without the great success of RAF efforts in DC, this very worthwhile work party may never have happened.
-Ron Keller, New Mexico State Liaison
Submitted on May 14, 2018