RAF AND GUESTS INAUGURATE NEW GRASS RUNWAY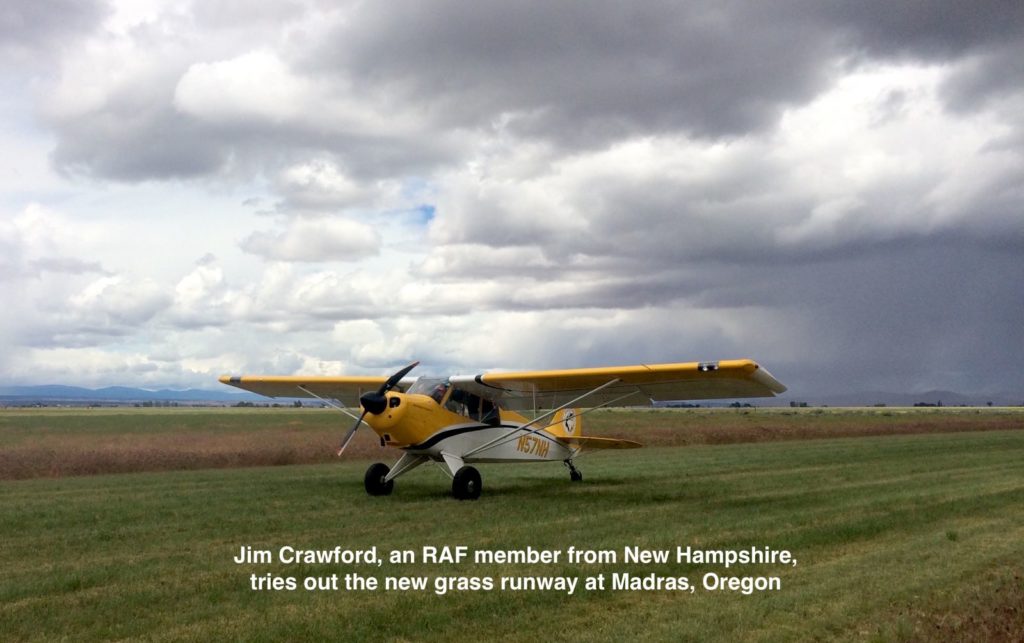 Despite unseasonably cold and stormy weather, several hearty pilots and their passengers attended the RAF Fly-In Saturday, June 10 at Madras, Oregon (S33) to inaugurate the new grass runway. An early morning snow shower, followed by scattered thunderstorms throughout the weekend conspired to keep less adventuresome aviators away, but pilots came from as far away as New Hampshire, joining several from Washington, for the fun.
The new 5,000 ft x 75 ft engineered turf runway was declared a magnificent Central Oregon destination for aircraft of all types.
Saturday evening, Rob and Tracy Berg, owners of Berg Air, hosted a barbecue dinner. Attendees shared their aviation experiences and provided feedback on the grass runway.
Sunday morning, five aircraft flew out to the Sunrise Valley Ranch to try out the newest backcountry airstrip in Oregon, developed with RAF assistance. The 2,100 ft x 60 ft dirt airstrip sits in a small valley at 4,400 ft elevation, surrounded on three sides by 6,400 ft mountains.
Larry and Susan Fildes, owners of the Sunrise Valley Ranch, hosted nine hungry visitors at their lodge.  Following an excellent family-style breakfast prepared by daughter Becky – who previously cooked at Red's Horse Ranch – the aviators departed for home under clearing skies.
Submitted on June 16, 2017.