RAF HELPS MONTANA PILOTS ON AIRSTRIP WORK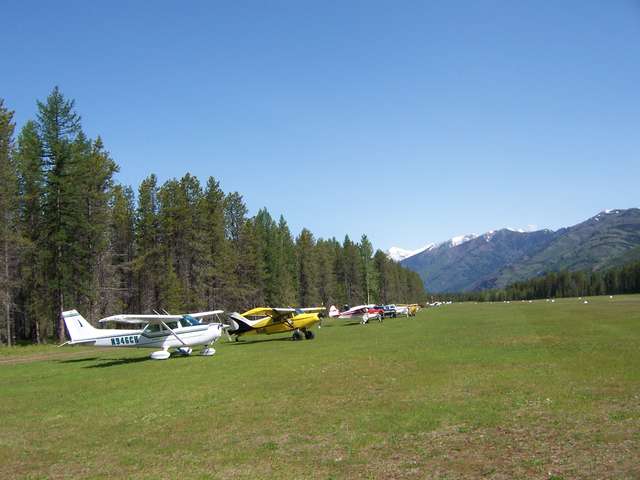 On Saturday, May 29 approximately 20 people representing the RAF, Montana Pilots Association, and Montana Aeronautics helped maintain Spotted Bear Forest Service airstrip, (8U4) along the South Fork of the Flathead River, just south of Hungry Horse Reservoir in northwest Montana. RAF Montana Liaison Scott Newpower reported that most drove in and camped. A few flew in, including MPA President Mike Vivion. "Montana Aeronautics Bureau Chief Marc McKee flew in with his father, and we wish to thank Aeronautics for the many years of partnership on these airstrips," Newpower said.
Newpower, McKee, Vivion and other MPA and RAF volunteers met informally with District Ranger Scott Snelson for an update on maintenance and development in the Forest District. The group realigned runway cones, replaced windsocks and repaired the windsock standards. They cleaned and painted the outhouse and runway marker and installed a new shed roof. MPA Western Vice President Perry Brown grilled burgers for the group.
This year's MPA work party at Meadow Creek, (0S1) drew 25 folks from many parts of Montana and as far away as the Keystone State. RAF and Montana Pilots Association volunteers flew in, enjoying ideal weather. RAF Pennsylvania Liaison Andy Turner had flown in with his two boys and set aside plans for a day hike to participate. The boys took turns mowing the entire field and parking areas, logging about six hours on the mower.
Volunteers weed whacked around cones and picnic tables. Both windsocks were replaced, and gopher holes were filled. Lots of downed trees were cut up and removed, and walking trails were cleared. Ry Keller from the Kalispell EAA chapter provided and cooked a steak lunch, as has become his much-appreciated tradition.