RAF IMPROVES CAMPING FACILITIES AT BOWSTRING
RAF Minnesota Liaison Kurt Pennuto reports that the May 31-June 2 Bowstring work party weekend was "a huge success." Volunteers completed two campsites, one with four tent pads and one with five tent pads. Each site now has an RAF fire ring, a picnic table and is just a short walk to a newly constructed outhouse. They installed a mailbox to hold a sign-in book and RAF information, and capped the work by installing signs at each campsite, "The RAF Supports This Airstrip". All of the projects were funded by an RAF grant. For details on Bowstring (9Y0) see the Airfield.Guide.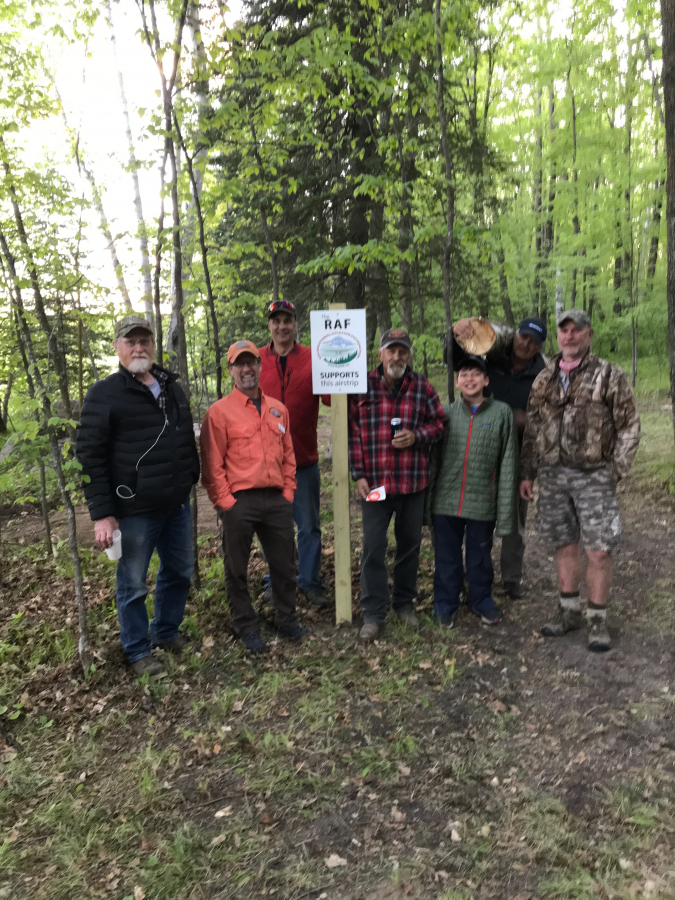 "The support from the Bowstring airport commission is a great partnership," Kurt said, pointing out that five airport board members pitched in to help: Ken Reichert, Greg Miller, Mark Mathisen, Robert Johnson, and Robert Styve.
Minnesota RAF Ambassador Rick Mercil attended, along with other volunteers Scott Moon, Frank Vittorio, Paul Schillo, and John Welna.
"On Sunday four more planes flew in to visit and check out the progress of the work party and marvel at our work," Kurt said. One was Jason Jenson, a Department of Natural Resources pilot out tracking wolves, and one was RAF member Peter Howell who submitted an article about Bowstring to his RV pilot group.
"Jason Jenson has a keen interest in our mission, and his knowledge and connections within the DNR are valuable to us," Kurt said. "Jason has given both Rick and me useful insight to the decision making process at the state level. We look for continued partnering with Jason and the state Department of Natural Resources," he added.
Submitted on June 11, 2019