RAF PODCASTS NOW ON YOUR FAVORITE APP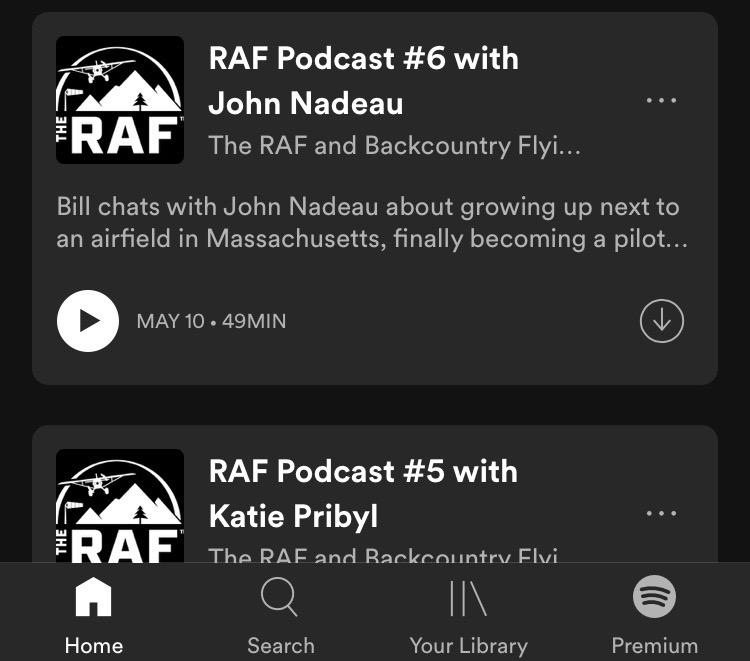 When RAF friends gather around the fire hub, there's always a good story to be told. We have captured some of those stories in digital format, and hope you will enjoy The RAF and Backcountry Flying 30-minute podcasts. Find them on Spotify and Apple Podcasts, or on the RAF website. 
Hosted by RAF President Bill McGlynn, his good-natured and easygoing interviewing style naturally brings out wonderful stories from our interviewees.
Criss-crossing the nation digitally, Bill began with RAF co-founder and Chairman John McKenna of Montana, and is recording other members of our "RAF Family".
Hear from Oklahoma Liaison Steve Thompson, aircraft owner since age 16. If you think Recreational Use Statutes are boring, you haven't heard New Englander John Nadeau's version. Bill catches Katie Pribyl between ranch chores, and it's clear she's totally comfortable branding calves, flying her Skywagon off the ranch, or an RJ in and out of O'Hare. You'll meet others, like former RAF director Tim Clifford, and learn the Ryan Field story, and more.
Each guest shares their personal story of how and why they were attracted to the RAF, its mission, and mostly, its engaging people. To browse the Podcasts on our website, click here.