RAF TRAIL #2 – CREIGHTON ISLAND ADVENTURE
Creighton Island's first official fly-in weekend took place March 24-26 as part of the RAF Trail. The seventeen attendees were rewarded by spectacular sunny spring weather and great company. While most were RAF and FSAACA members from Florida and Georgia, RAF member Jim Crawford and his girlfriend Andrea flew their Husky all the way from Fryeburg, Maine!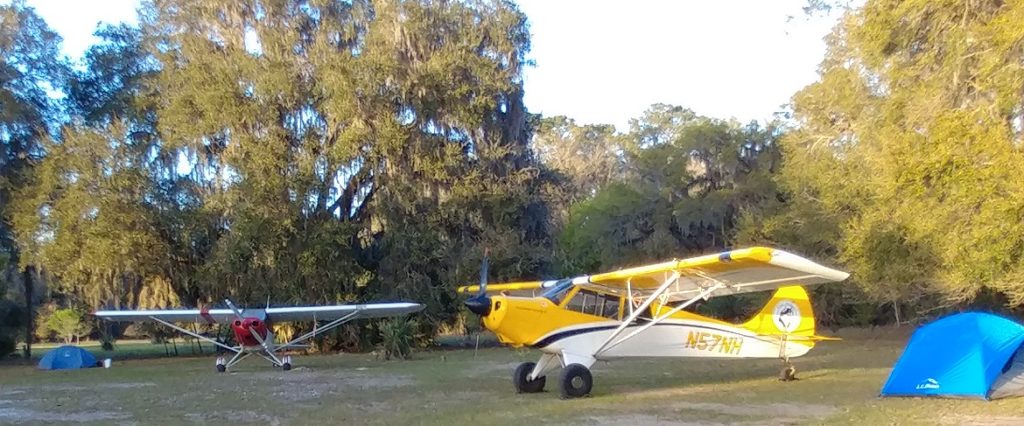 Most arrived and set up camp Friday, then enjoyed the traditional Creighton dinner – a low country boil. The evening concluded around the fire with Wayne Whitney singing and playing his guitar with many joining in, aided lyrically by their smartphones.
Saturday, following a delicious group breakfast of bacon, grits, and hash, the groups split, with some remaining to explore the north end of the island and search for artifacts. Others flew to Berg Park Aerodrome for the Grass Strip Foundation's annual open house. There, some were recruited to help reposition a 1965 Corvair to the airfield from nearby storage. A local airman treated Jim and Andrea to a ride around the field in his Aircam. Later the Husky and Aircam flew together out to one of the barrier islands and landed on the beach. Those remaining at Creighton were hard at work fishing, harvesting oysters, hiking, kayaking, and searching for hidden treasure, while a few climbed the 100-ft fire tower.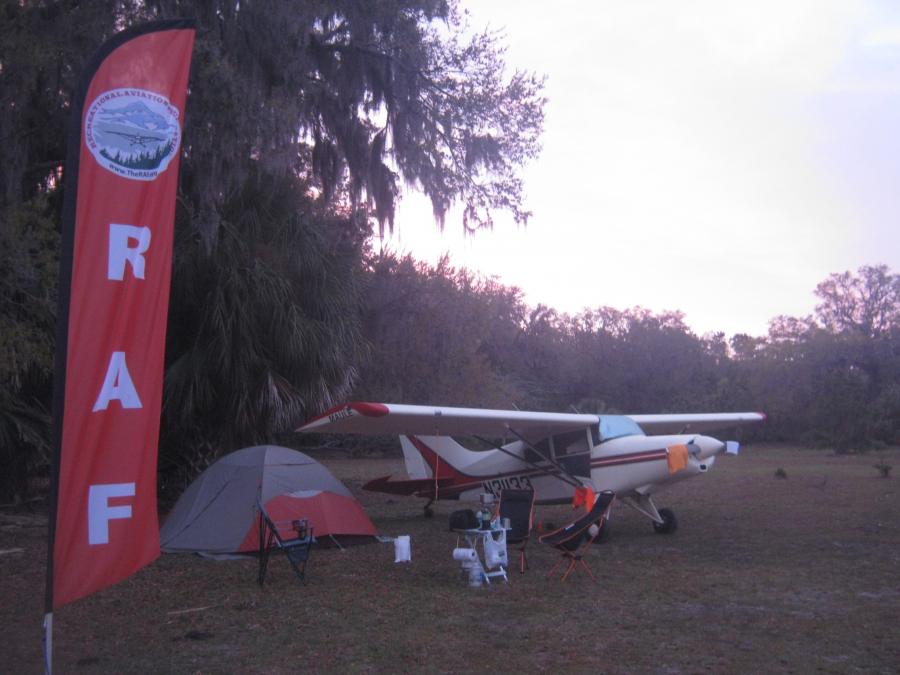 Saturday evening, attendees helped put on a pasta spread.  Sunday morning everyone enjoyed a warm breakfast of grits, eggs and sausage, which fueled them through the breakdown of their tents and gear. Some regrouped at nearby KSSI for a post fly-in lunch at Southern Soul BBQ, just a short walk from the airport. After lunch each plane headed off to home-base to prepare for RAF Trail #3 – Blackwater.
Submitted On April 3, 2017.