RAF TRAIL #3 BLACKWATER, FLORIDA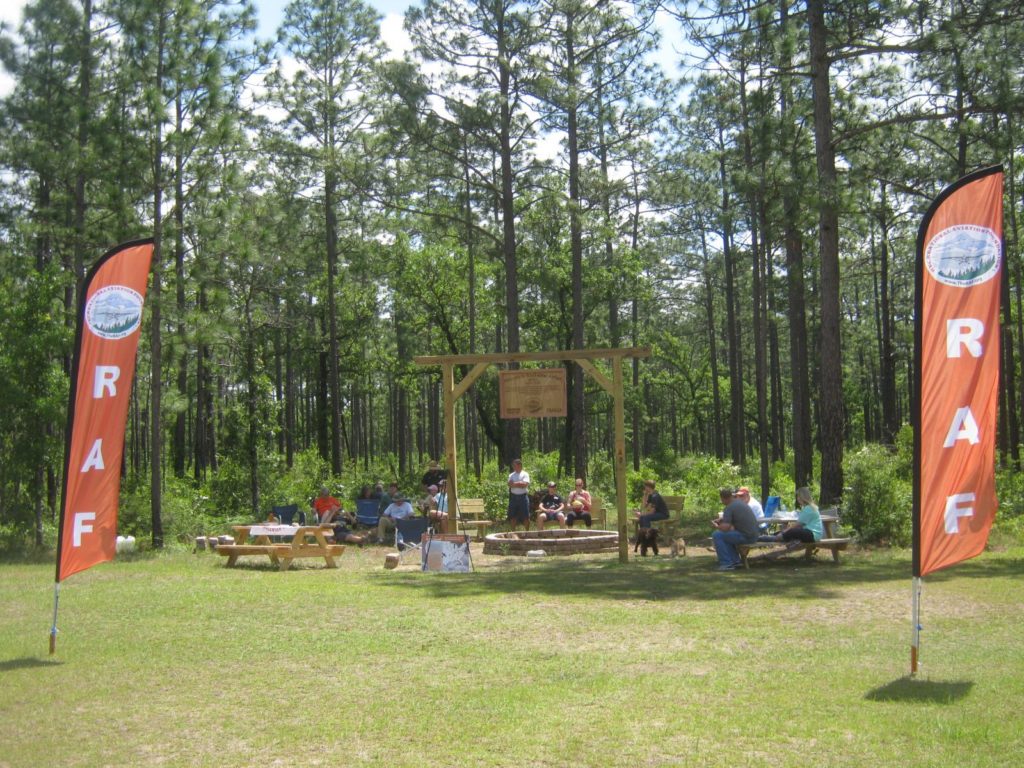 The RAF's third Inaugural Trail stop at Blackwater, FL coincided with Blackwater's fourth annual Fly-in. The strip was in beautiful shape, thanks to volunteers from Florida Sport Aviation Antique and Classic Assoc. (FSAACA) and the RAF. They weeded, and re-set the tires lining the runway and gave them a fresh coat of paint. They cleared and increased the fire pit area, "giving it quite a facelift," said RAF Florida Liaison Bobby Capozzi.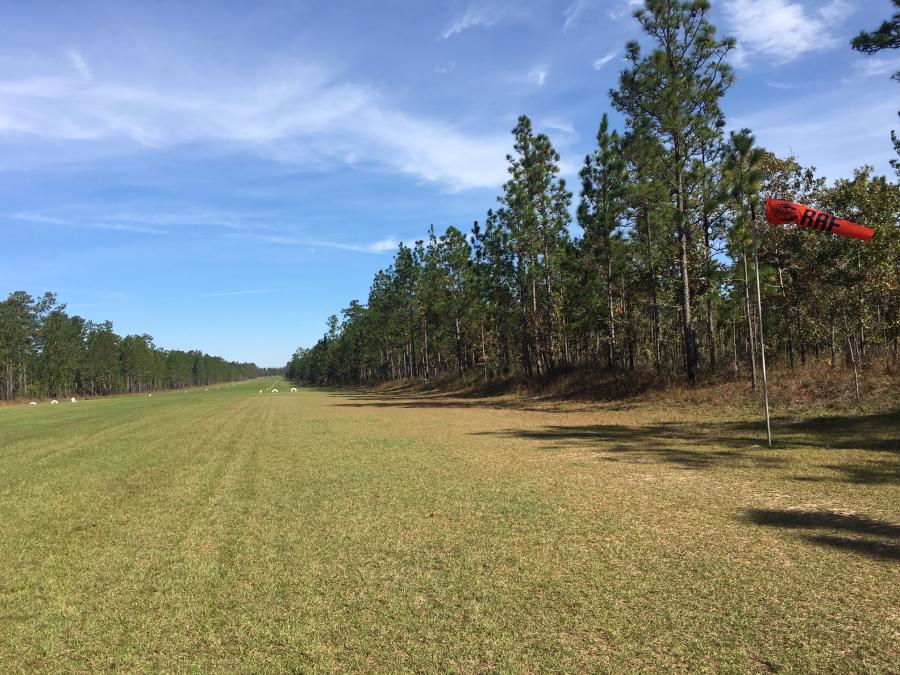 Jim Pottker fabricated a beautifully crafted wooden sign trimmed in cedar. Jim's son Chad built the support arch and neither would accept payment. They deserve a big thank you for their great support. Others contributing sweat equity include Ian McIntyre, D.C. and LeighAnn Nowling, John Farrow, Shane and Elaine Hartman, Eric and Wendy Lathrop, Mike and Melissa Rouse, Jim Andem and Robert Hilliard.
Twenty-three planes flew in for the May 12-14 event; 15 drove in with a total head count of around 60. Friday evening pizza was brought in for the early arrivals. Saturday breakfast and lunch was supported by Christy Bare and Sue Hewett from Ruth's Country Store.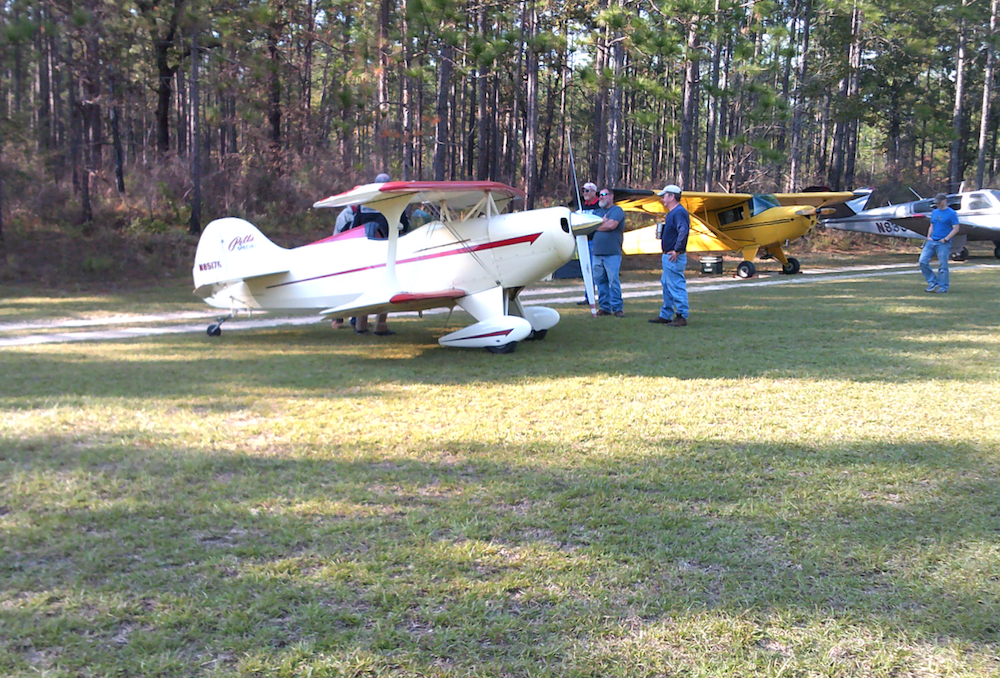 The weather produced high humidity (rain) Friday with on and off showers continuing through Saturday mid-day when the sky cleared in time for a memorial honoring Drew Hatch, USAF (Ret.) who passed away in March. Drew was remembered for all he did to support the RAF and help secure the Blackwater Airstrip for the GA community. Precisely at 1600 the U.S. Air Force Honor Guard presented the flag to Drew's family who attended: Drew's son Andy, and granddaughters Jaylin and Chloe. Pilots D.C. Nowling, Ian McIntyre, Eric Lathrop and Shane Hartman honored Drew for his service.
A Special Thank you goes to the U.S. Air Force Honor Guard:
SSgt Cory Cook
SrA Kelsey Bryant
SrA Hector Lopez
A1C Johnathen Zimmer
A1C Ashton Mays
A1C Tyson Seritt
Airman Phoenix Haines
Saturday evening featured D.C. Nowling's "world famous" chili and barbecued ribs. Flying continued, with pilots giving rides until sunset. Ian gave Drew a ride in his Maule and Jaylin took her first ride, "loving every minute of the experience," Bobby observed.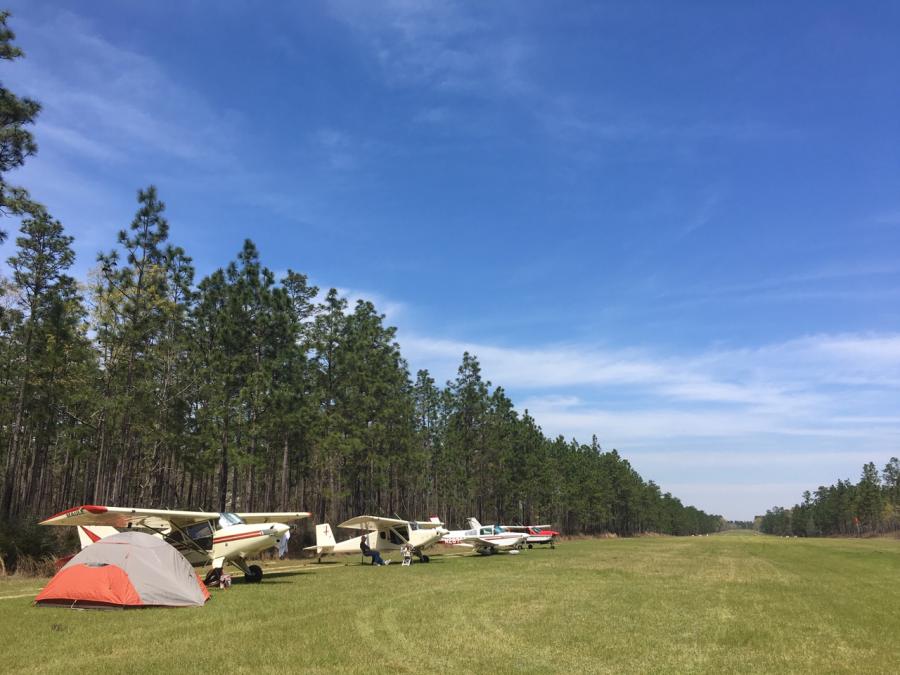 Campers ended the evening sitting around the fire pit with great music including Ian on his harmonica.
Florida Panhandle RAF member John Hall updated folks with regular weather reports and runway conditions, even through moderate downpours.
The RAF thanks Lowe's of Pace, FL for discounting the picnic tables; John "Big John" Farrow for supplying benches and D.C. Nowling "for too many things to list," according to Bobby.

Submitted On May 24, 2017.