RAF VOLUNTEERS ENHANCE BLACKWATER
Seventeen volunteers took up tools the weekend of March 22-24 at Florida's beautiful 4,000-ft turf Blackwater Airfield (8FD3) in the mixed pine forest near Munson, FL. Leeanna and "DC" Nowling started early by delivering tools and materials and made a truck available for the task.
Florida RAF Ambassador John Hall arrived, followed by Florida Liaison Bobby Capozzi and his wife Kim, Elaine Hartman in her RV6, Mike Guidry in his C177RG, and Paul Michel. The work plan was set and assignments made with just enough time to get tents up as the sun set.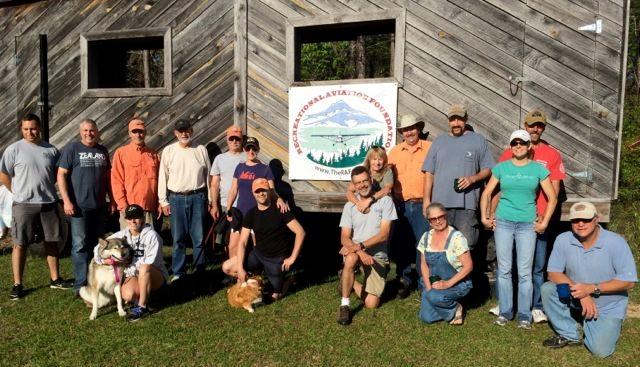 Saturday morning the campers awoke to ice on the tents, which surprised the Floridians. The rest of the day saw a steady rotation of volunteers coming and going including Florida Ambassador Joe DeLeon and Jenny; Joe, Katie and Jenna Campbell, Eric Bucketew, and one of our newest members, Doug Smith in his Husky. Doug originally planned on working a few hours but received the coveted kitchen pass in the 11th hour as he was buckling his seatbelt for departure. The kitchen pass allowed him to stay, eat and camp.
The Blackwater refresh included installing marker tires at the north threshold. All existing tires were realigned, straightened and painted. DC produced two young painters, grandsons Jacob and Jayden. Elaine pressure washed the picnic tables for repairs, barbecue grills were planted and the general area was raked and cleared. The fire pit was repaired and prepped for the evening.
"I'd like to plan a work party like this once a year or as required," Bobby said, adding, "Being a good neighbor to the Florida State Forest will go a long way."
By sunset the paint had dried, the concrete cured enough to test-fire the new barbecue grills with burgers and dogs for all.
"I would like to thank all the volunteers for coming out and supporting this worthy cause. Many of you attended knowing you could not enjoy the meal or camping overnight, so this means a lot and shows your dedication to improving and preserving this special airstrip," Bobby said.
Watch the RAF calendar for the annual Blackwater gathering in November.
Submitted on March 28, 2019