RAF'S SEA OF ORANGE AT AIRVENTURE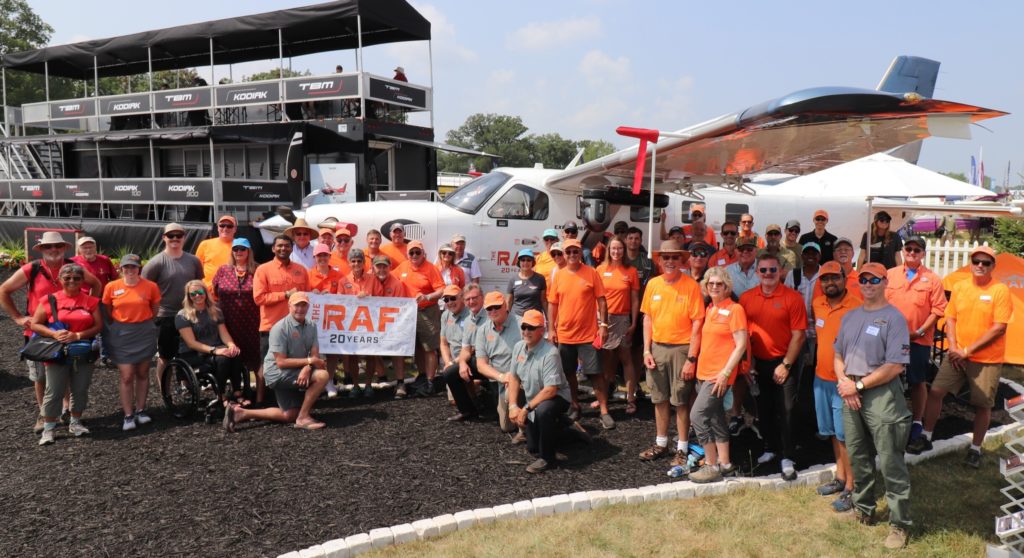 From high school campers to high-time pilots, the RAF engaged a wide group of AirVenture attendees throughout the week at Oshkosh. The RAF was invited to join displays at both the US Forest Service and Daher booths, and Hartzell again this year provided prime space on their rooftop for the traditional Tuesday morning Manderfield's donuts and coffee social.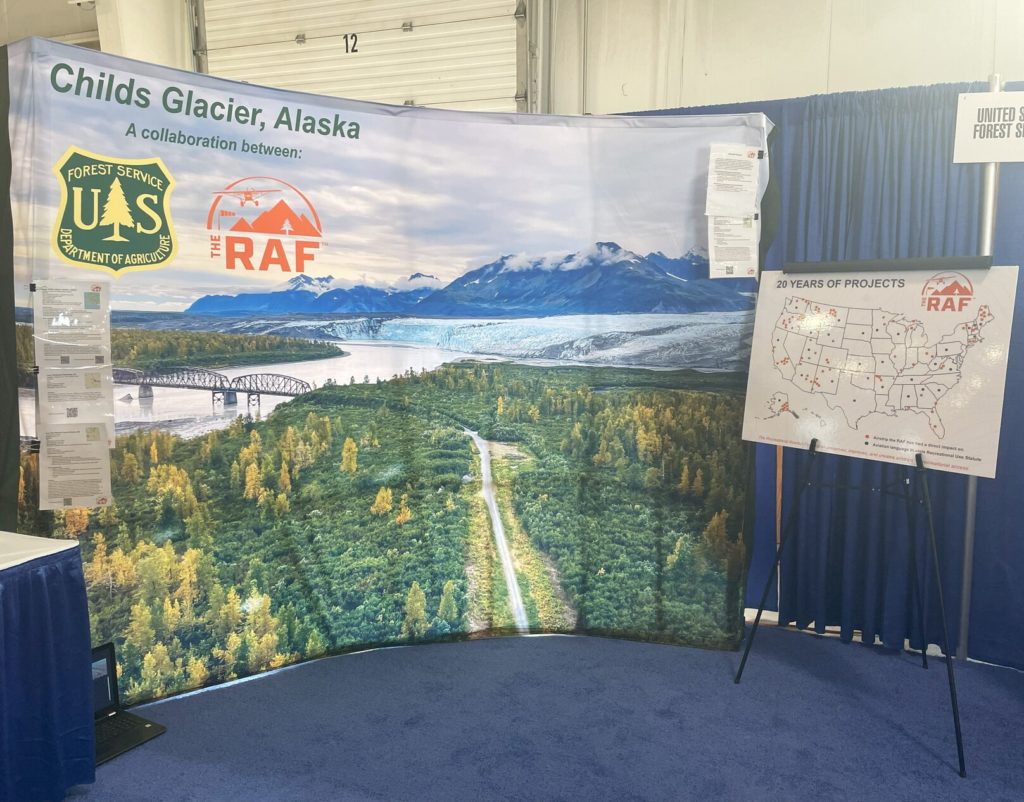 At the USFS booth, Alaska Liaison Stef Goza's beautiful backdrop photo of Childs Glacier airstrip attracted passers-by. RAF volunteers were on hand throughout the week sharing the story about the USFS/RAF collaborative efforts at Childs Glacier airstrip, and other Forest Service/RAF collaborations. Thanks to the USFS and especially Chad Runyan for the opportunity to share a booth.
Daher has actively backed the RAF for many years, and in this spirit, the company provided display space and a beautiful Kodiak 100 with the RAF logo in its AirVenture booth all week. Visitors learned of the successful partnership between Daher, the RAF, and the US Forest Service on airfield projects in Idaho's Wilderness.
RAF Wisconsin Liaison Amanda Levin kicked off the presentations Monday and drew a crowd to her talk, "The Risk of Losing Access: The RAF at 20 Years" in the Pilot Proficiency Center. RAF Georgia Ambassador Dhruv Thakkar gave an enthusiastic presentation Monday evening to the high school students who spend the week camped at the Aviation Exploration Base in exchange for helping EAA staff throughout AirVenture.
Tuesday morning, the Hartzell rooftop was standing-room only as RAF VPs of Appreciation Mathieu Labs and Lisa Ballantyne, and RAF supporter Kristen Brown served Manderfield's donuts and coffee. Folks signed an RAF 20th anniversary banner to commemorate the event. Many stepped up and bared skin for RAF Washington State Ambassador Ray Ballantyne to help apply RAF 20th anniversary tattoos. The RAF thanks our friends at Hartzell for providing their rooftop once again.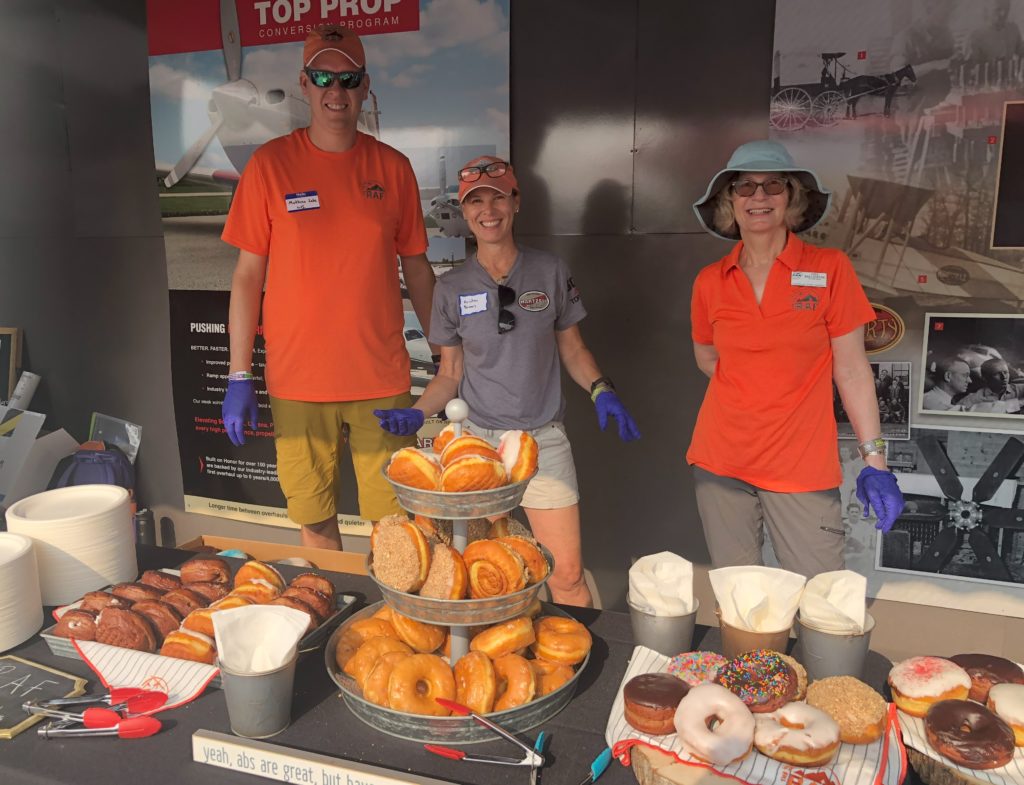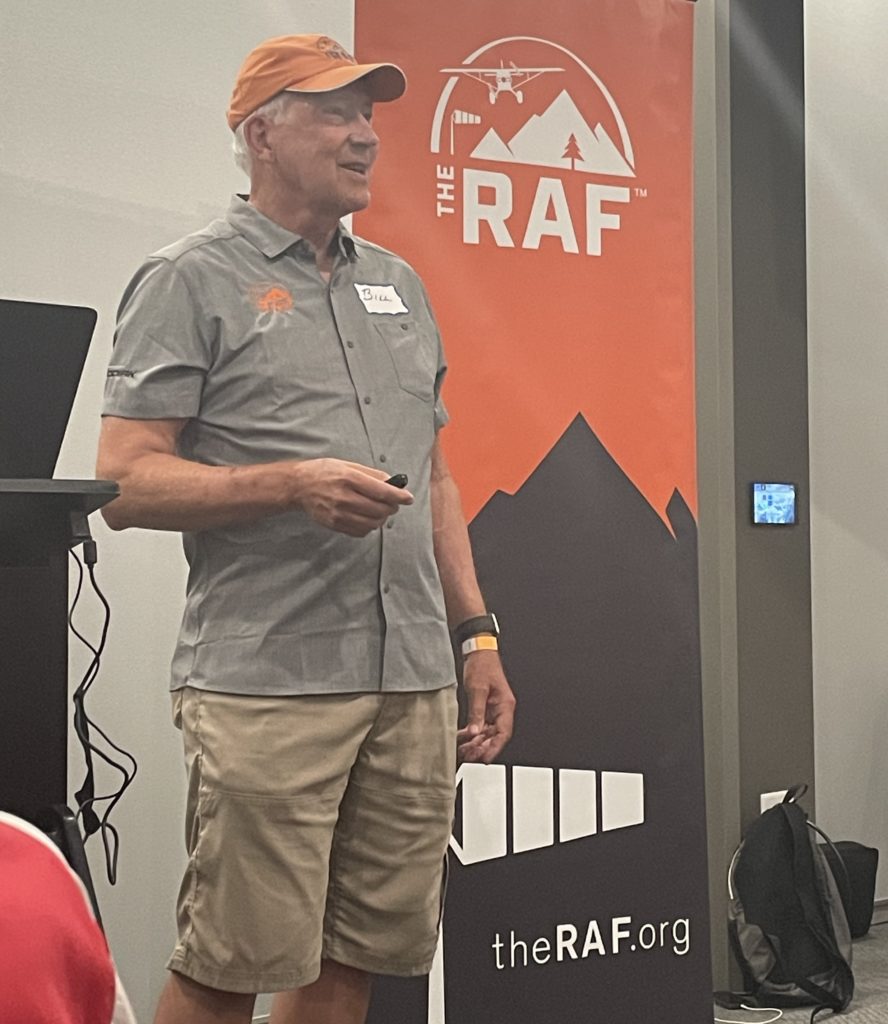 That afternoon, RAF President Bill McGlynn invited listeners to "set your watches back 100 years" with his presentation on backcountry flying and preserving public treasures. He explained the RAF's role throughout the critical rehabilitation of the US Forest Service airfield at Moose Creek, ID. Daher Aircraft stepped up with a Kodiak 900 and solved the massive logistics challenge of operating in a Wilderness where there are no roads, nor mechanical equipment.
The Daher/Kodiak booth became a sea of orange earlier that day, as folks sporting RAF logo wear turned out for the "family photo." A lively game of heads-or-tails was played, and an RAF logo item was given away.
Thursday morning RAF Director Jeff Russell and Indiana Liaison Bill Steinmetz recapped the RAF success at airstrips such as Cornucopia and North Fox Island in their talk, "How to Save an Airstrip".
The RAF invited every Oshkosh visitor to the Brown Arch to view the growing array of tiles that commemorate RAF volunteers. One hundred tiles were generous donated by a long-time RAF supporter, whose goal is to honor the volunteers who fuel the mission. We will continue to add tiles in the coming years.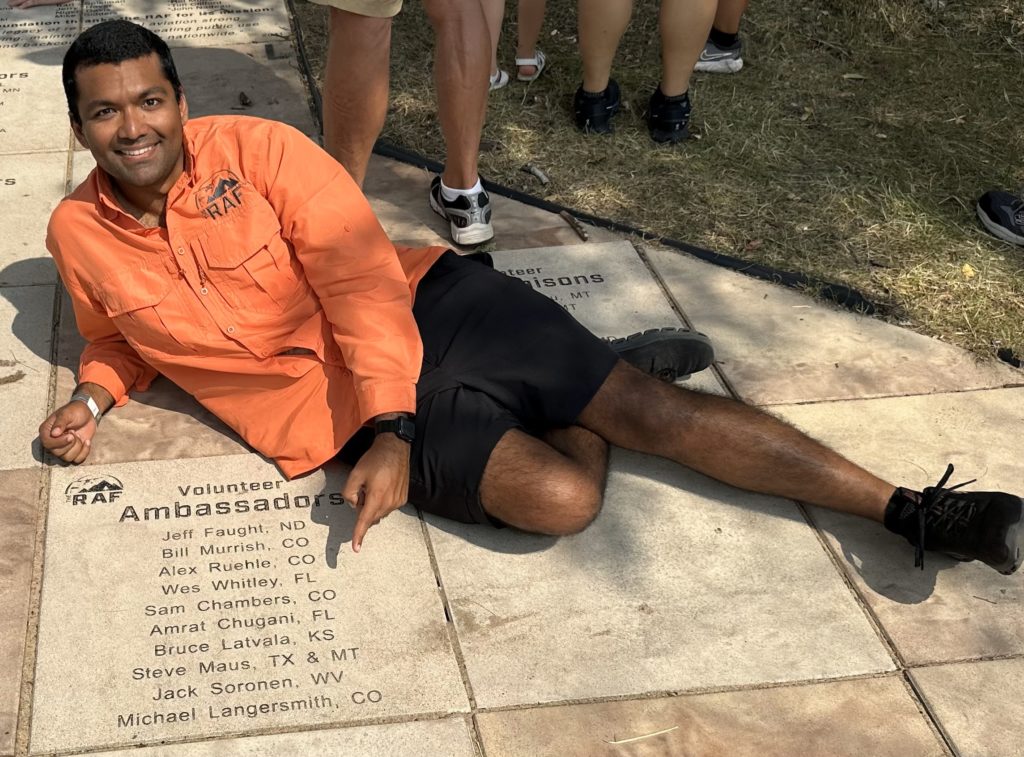 Special thanks go to Director Jeff Russell for all his help preparing for this year's AirVenture.
Submitted July 31, 2023.