RAGMUFF OPEN FOR PUBLIC USE!
Ragmuff is the first airstrip within the privately-held North Maine Woods to open for public use. "We're considering this a test case, the first step in working with North Maine Woods ownership as other owners are watching," said RAF Maine Liaison Andy Rowe.
The source of its singular name is murky, but the beauty and proximity to recreation are clear. The west branch of the Penobscot is just a mile and a half hike and offers good fishing for brook trout and landlocked salmon. Fall is the premier time to be there – colors turn and it becomes bug-free and partridge and fishing seasons overlap.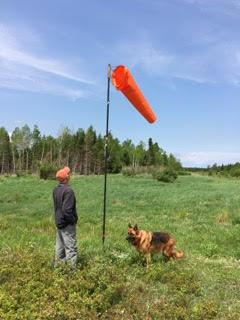 Being private land, people typically buy season or multi-day recreation passes. Although pilots fly in, it's recommended to purchase a pass for the privilege of recreating on this land.
There are several airstrips, originally created by paper companies for ag planes spraying the timber for spruce budworm. "These strips could be critical in the future because the budworm is encroaching from Canada," Rowe pointed out.
"Steve Mason and I have our eyes on several other strips," Rowe added, "some with even better recreational offerings."
For more information contact:
Andy Rowe, Maine State Liaison
arowe@theraf.org | 207-837-9155
Submitted on July 28, 2016.