RANGER CREEK AIRPORT WORK-PARTY- GREENWATER, WA.
The Green River Chapter of the Washington Pilots Association and the RAF held their annual work party at Greenwater/Ranger Creek Airport (21W) on Saturday, May 7.
About 40 volunteers and 15 planes showed up to get the airstrip ready to open for the season. They cleared the runway, raked, pulled weeds and tree sprouts, and replaced windsocks. A team assembled new picnic tables that were furnished by the US Forest Service.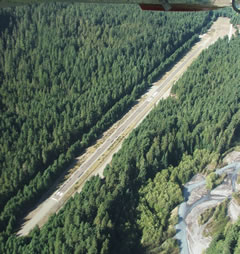 The airstrip is a state-owned, 2,875-ft paved strip at 800 ft AGL with a Forest Service campground adjacent to the runway. It lies on the west side of the Cascades, only a few miles from the base of Mount Rainier, which was very evident when flying in.
Everyone enjoyed a chili feed furnished by RAF and WPA-Green River member Al Banholzer.
Submitted on May 9, 2016.