Montana State Liaison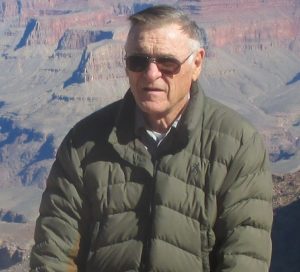 It's not often a volunteer shows up for an RAF project with a passion for flying the backcountry and a career of cartography behind him. Ronald Normandeau was raised in Polson, Montana, attended the University of Montana, spent 22 years with the U.S. Geological Survey and retired from the U.S. Forest Service after a career as a Cartographer/Photogrammetrist. Ron earned his pilots' license in 1964 and proceeded to "use every method known to man to find ways to fly and finance flying," he says. He has completed the fifteen year restoration project of restoring a 1947 Aeronca Chief and is involved in getting the no bounce landing gear to stop throwing him back into the air.
Ron and his wife Kathy have retired in Polson.
In his 22 years with the U.S. Geological Survey in Denver, Ron participated in the major transition from constructing maps manually to using digital methods. The result is what you see in your GPS systems with moving maps that encompass the complete U.S.
Ron's twelve years with the U.S. Forest Service in Missoula have enabled him to bring other valuable experience to the RAF, and a good rapport with the USFS.
Ron maintained a parallel career as a reserve officer in the Corps of Engineers in the military occupational specialty (MOS) of Topographic Engineer (21D). This career encompassed service in: 19th Special Forces (ABN), 30th Engineers, 1st Maneuver Training Command, and Commander, 379th Engineer Battalion.
When the State Liaison position was developed by the RAF, Ron– with his willingness and experience – was a great fit for the task in Montana. He became the RAF's first State Liaison. Now, we are proud that he has taken the role of Public Agency Consultant.
406-529-5661
rnormandeau@theraf.org