RYAN FIELD HAS BEEN DISCOVERED!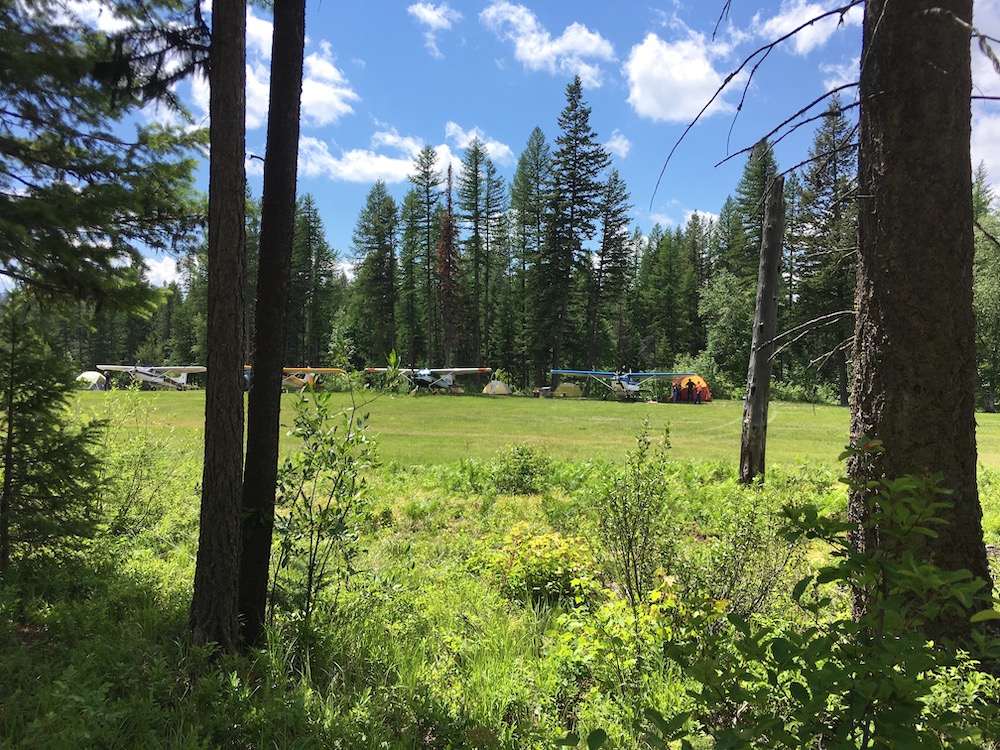 Not surprisingly, word about a place as beautiful as Ryan Field gets out. The RAF welcomes visitors with backcountry flying skills appropriate for this special place. RAF volunteers have built rustic amenities that campers are welcome to use.
During the construction project now through October, we expect our contractors and volunteers to create extra traffic. They are aware that the runway is active, and they must be vigilant as to approaching and departing aircraft.
Ryan Field is private land surrounded by public US Forest Service land, so it's not surprising that we are experiencing ground-based users who may not be knowledgeable of an airport environment. The property entrance has a lockable gate, and we gladly share the gate code with RAF members.
We are working on a plan for a limited number of vehicle parking/camping spots and appropriate policies to preserve the backcountry atmosphere we've worked so hard to create and preserve.
Aircraft users have priority. We know RAF members fly in expecting a place that offers that special backcountry experience, without it resembling an RV park.
RV/Vehicle Camping Alternatives:
In addition to those in Glacier National Park, there are nice RV parks and campgrounds nearby. We encourage vehicle campers to use them to preserve space for aircraft campers.
West Glacier KOA: https://koa.com/campgrounds/west-glacier/
West Glacier RV Park and Cabins: https://www.glacierparkcollection.com/lodging/west-glacier-rv-park/
Moose Creek RV Resort and B&B: https://moosecreekrv.com
Lake Five Resort: http://www.lakefiveresort.com
North American RV Park and Yurt Village: http://www.northamericanrvpark.com
Thank you for your consideration in preserving Ryan Field as a desirable backcountry destination.
Your RAF Board of Directors
Submitted on July 29, 2020