RYANS FEATURED FOR VETERANS DAY ISSUE
The newspaper story begins with how the couple met after Ben ejected from his mid-air damaged P-38 near the Panama Canal in World War II. Butchie was an Army nurse at work on board the hospital ship that treated him. Ben and Butchie, now aged 90 and 91 respectively, have a lot more fascinating history, and the story recalling "one heck of a life" appears here: Daily InterLake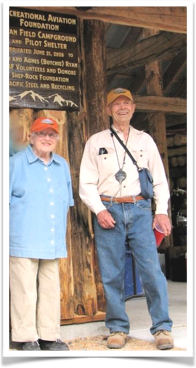 The RAF had the honor of meeting Ben and Butchie in 2002 when Montana pilot Mike Kuefler introduced them to the RAF board. Ryans indicated their wish to preserve and share the picturesque 2,500-ft airstrip that Ben had created from his property in the mountains near the west entrance to Glacier Nat'l Park. The RAF has added pilot improvements and camping amenities, with volunteer help and cash contributions from folks from all over the country.
Since that first meeting, many RAF friends and supporters have flown in to enjoy Ryan Field, and visit with Ben and Butchie. That special privilege has changed, since Ryans moved into the Montana Veterans Home at Columbia Falls in May of 2012. Drop them a note sometime – they would love to hear from you. 400 Veterans Drive, Columbia Falls, MT 59912.
The field appears on charts as 2MT1. (The RAF requires pilots to obtain a safety briefing prior to landing there; click here for details.) Above photo taken by Eric Anderson.
Submitted on November 10, 2013.