Missouri Ambassadors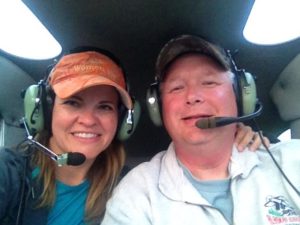 Sarah Dickerson:
Day job: First Officer (soon to be captain!) at Trans States Airlines, a regional carrier flying as United Express
Favorite airstrip: 3M0 (Gaston's Airport, Lakeview AR)
Next adventure: Hope to make a 2 week camping tour of airstrips throughout the Midwest soon – bucket list item is a trip to Idaho/Montana/Wyoming when I have a plane better suited for that mission!
Jim Dickerson:
Day job: Airline pilot
Favorite airstrip: 1K1 – Lloyd Stearman Field Airport
Next adventure: Every day is a new adventure!!