Those of you who were at Sun-N-Fun 2011 and visited the RAF booth saw first-hand the destruction from the tornado that tore thru the area. The RAF was relieved to have only minor damage. Yes, the display booth fell over, the television was smashed, and we all wandered around in ankle deep water, picking up brochures and registration sheets, but thankfully none of our hard working volunteers were hurt.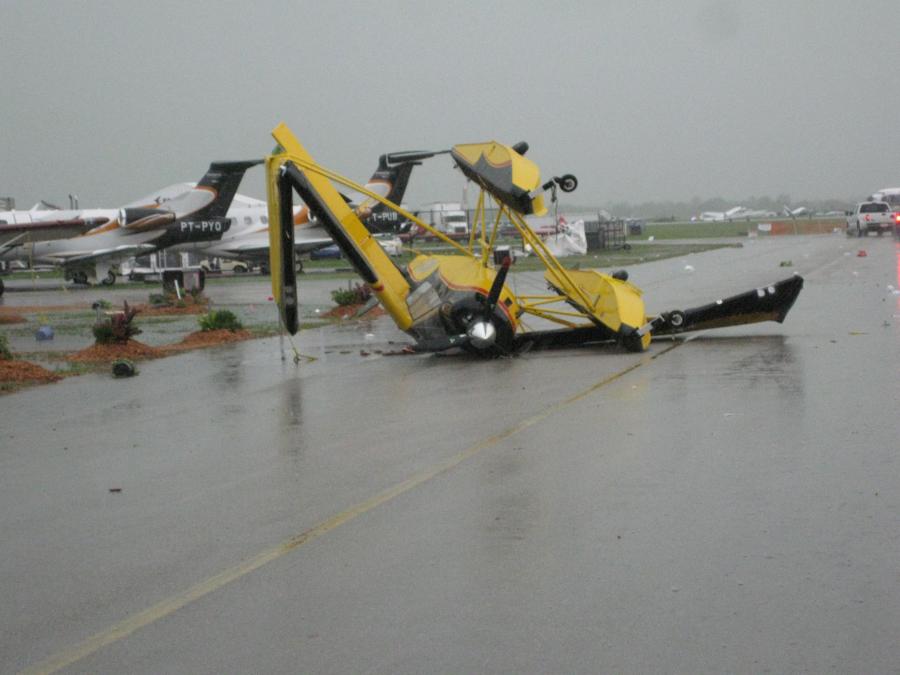 On the RAF website we featured a video taken from inside the RAF tent, a chronicle of events that threatened to destroy the brand new Aviat Husky loaned to us to complete our camping display. It seemed to happen in slow motion: the tornado level winds blew, uprooting the tie downs that secured the Husky and leaving us helpless to watch as it left our display finally coming to rest against posts across the street. But this Husky was tough and she fought back, determined not to give into the storm. We knew then it was "Tougher Than A Tornado".
Last week AOPA announced that the perfectly repaired N40WY, the same Husky that weathered the storm in front of the RAF booth, will be the AOPA 2012 Sweepstakes airplane! Since the RAF put the "tornado" in the Tougher Than A Tornado Husky and since this airplane ideally represents recreational aviation, AOPA has invited the RAF to participate in the year long adventures of N40WY leading up to the 2012 AOPA Summit in Palm Springs, California. The RAF hopes you will participate in the Tougher Than A Tornado Husky activities as it wings its way thru this next year and in to the hands of some lucky AOPA member in the fall of 2012.
Submitted on August 29, 2011.