TRIGGER GAP WORK PARTY ACCOMPLISHMENTS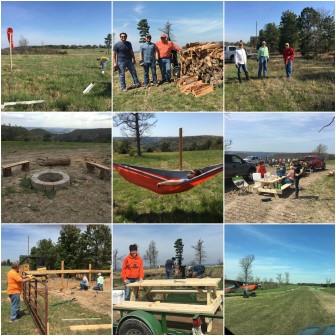 In spite of 30mph crosswinds all day, 19 volunteers accomplished everything we hoped to! We worked a Bobcat to death, and were lucky Matthew Turnage was able to get a second unit out to us getting the 26 holes bored out.
As best I can see we got the following done:
• Assembled, stained and placed two picnic tables;
• Established a new entrance off of the road; sealed old one. The new entrance is much more accessible and looks great!
• Placed runway pattern markers around the windsock. We choose to install it showing traditional left hand pattern to work with a noise issue with neighbors. Trigger Gap Safety Briefing.
• Replaced fire pits with an incredible, professional fire pit! Thanks Justin Shockley for your leadership and your team's help here. The pulled roast pork was pretty amazing also!
• Positioned ten 4×4 posts with lantern hooks to allow hammocks to tie to adjacent trees;
• Split and stacked enough firewood to cover the need for the season;
• Buried eight tie-downs, creating two separate "cable" airplane tie-downs.
The RAF thanks to all the hardworking volunteers. You've done a lot to make Trigger Gap a more desirable destination!
Submitted On April 14, 2017.