VIDEO TAKES YOU INSIDE THE TRIGGER GAP PAVILION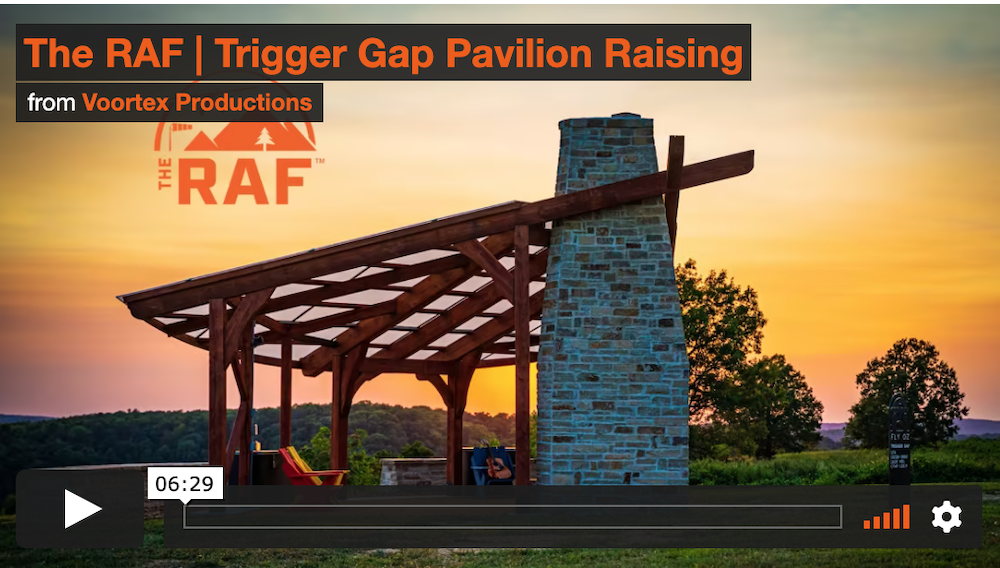 The RAF is very proud of the work its volunteers accomplished to create a pavilion at Trigger Gap (17A) in the beautiful Ozark region of Arkansas. We are excited to share this Voortex Productions' inviting six and a half minute video that brings you right into the action!

Learn how the RAF partnered with The Nature Conservancy and Fly OZ to create a new airfield above the Kings River, and designed a gathering place where visitors can enjoy some shade, or get cozy around the open fireplace to take the chill off the evening.

"What we really built was not just a pavilion, but a community, and more reasons to come enjoy this special place," RAF Chairman John McKenna said during the construction of the pavilion.

"Our work party to build the pavilion brought about thirty-five people from a dozen states," RAF Arkansas Liaison Dave Powell said, adding, "We all come together to do something we love to do, which is recreational flying, and we orient ourselves around a project."

The Nature Conservancy approved the natural design by architect Jeff Smith, who also serves the RAF as Kentucky Liaison. The Amish timbers came from Montana, and skilled volunteers erected the structure, finished off with a natural stone fireplace and chimney.

It's an ideal place to camp, with access to hiking, fishing, or floating the Kings River. Trigger Gap is one of a network of backcountry airfields in the Ozarks, not far from the metropolitan areas of Bentonville-Fayetteville.

"It's been a partnership that [The Nature Conservancy] is as proud of as we are," Powell added.

See the Airfield Guide for details on Trigger Gap and the many other Arkansas airfields offering recreational activities.
Submitted on October 20, 2021.