VOLUNTEERS ESTABLISH "NEW" MOWER AT SCHAFER MEADOWS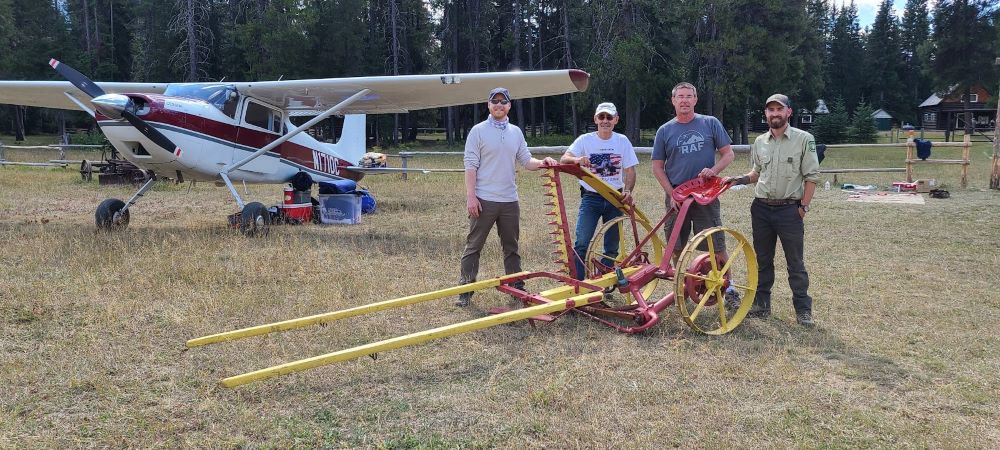 RAF Montana Liaison and Montana Pilots Association Past President Scott Newpower reported that a half dozen planes and a helicopter landed at Schafer Meadows for a short-notice work party September 3-4. Schafer Meadows is Montana's only airstrip within a Wilderness area, and as such, mechanized equipment cannot be used for maintenance. MPA volunteers have historically assisted the Forest Service on maintenance chores at Schafer, and the RAF joined in the effort.
Pete Smith of Lewistown, MT had completely refurbished a horse-drawn mower and disassembled it so it could be flown to Schafer from Lewistown. Prior to the work party scheduled in July, Newpower flew in the center section, both wheels and the seat after picking them up from Smith in Lewistown. On the morning of September 3, Marc McKee, Montana Aeronautics Chief of Airports and Airways flew to Lewistown and he and Smith loaded the remaining components in their two planes for the delivery flights. Volunteers including USFS Schafer Station Guard Jeremy Rust reassembled the mower.
Kal Kovatch of Roundwood West in Seeley Lake and pilot Mike Lindemer, also of Seeley, had built a new gate of raw wood stock Kovatch had donated. They disassembled it so it could be flown in to Shafer.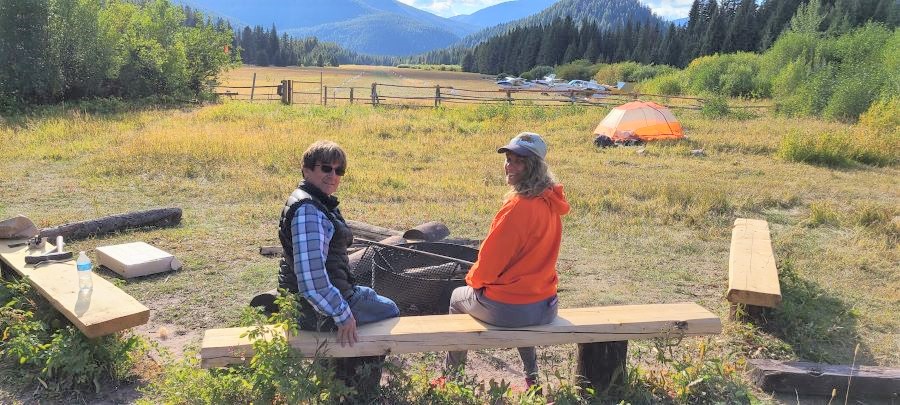 Mike Lindemer, Mike Hines and Heather Hair re-assembled the new gate and installed it. They also replaced the old benches from around the fire pit with new ones flown in from Seeley Lake by Newpower.

The RAF thanks Kovatch and Roundwood West for donating materials and time on the new gate, and thanks each volunteer for their work. A special thanks goes to Pete Smith for his time and resources.
Submitted on September 13, 2021.