VOLUNTEERS RAISE PAVILION AT TRIGGER GAP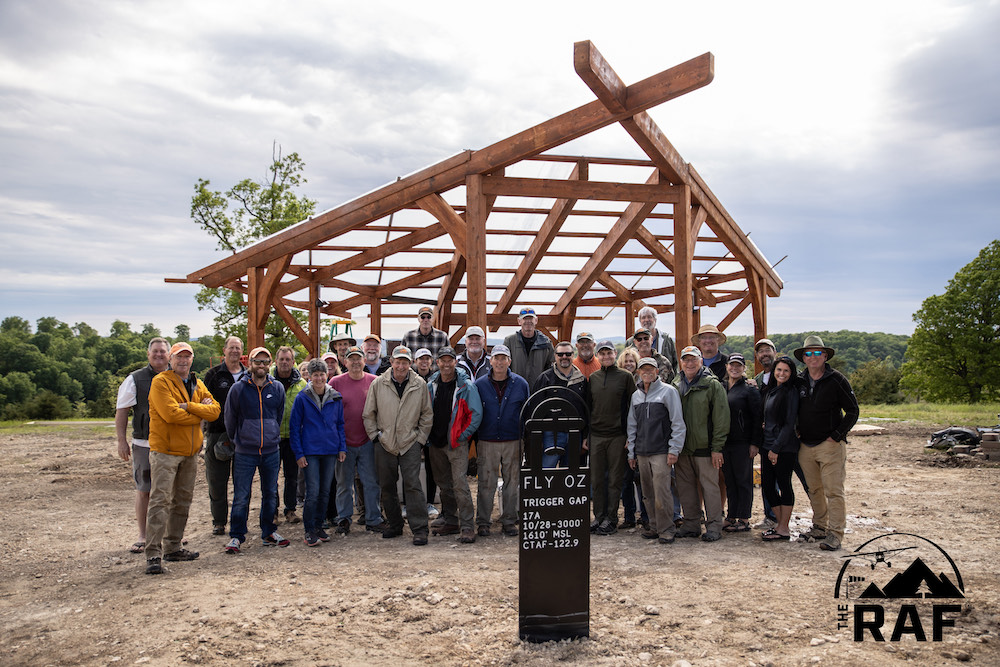 The open air pavilion is nearing completion at Trigger Gap Airfield in Arkansas, 17A. Volunteers came from 12 states representing RAF members, the Tailwind Aviation Foundation, and local Fly Oz friends, most of whom are also RAF members.
"We had a very successful work party," RAF Arkansas Liaison Dave Powell said. "All had a great time and enjoyed building community together in addition to structures," he added. The Nature Conservancy staff also came out including Scott Simon, Arkansas TNC Director.
"I was awed by the skill, enthusiasm and can-do attitude of each and every one of our forty volunteers," RAF Arkansas Liaison Harper Goodwin said. Everyone contributed, some by screwing 16-inch screws into massive beams with big hammer drills, while others dug trenches, installed wiring and lighting, built a shower tent, mowed, leveled new areas, and spread grass seed, he reported. There were trips to the hardware store. Folks boiled some crawfish, and cooked for the crew. "My goodness did they cook . . . three meals a day," Harper added. "Everyone was an important cog in the wheel and it was a lot of fun seeing it run smoothly."
In addition to the pavilion, the crew replaced windsock frames, cut and split firewood, fabricated chairs and painted them along with cementing in a new monument sign. Stone masons are scheduled over the next several weeks to create a stone fireplace and wall to finish the pavilion.
"I am very proud of what we all accomplished and most of all I cherish the friendships that were made. I look forward to crossing paths with each and every one of the team as we now have a special bond, with Trigger Gap and the RAF as the foundation," Harper said.
The RAF thanks all who contributed their time or monetary donations toward this project, and values its relationship with Fly Oz and The Nature Conservancy.
See details about Trigger Gap in the Airfield Guide.
Volunteers Improve Richland Creek
In addition to all the work accomplished at Trigger Gap, volunteers took on projects at Richland Creek airfield, 4AR9. They constructing a composting toilet similar to Trigger Gap and erected a gazebo with wood cut by the same Amish supplier who provided timbers for the Trigger Gap pavilion. (Photos and report to follow.)
"Trigger Gap and Richland Creek are but two more examples of the best that the RAF can be…not only did we build structures but once again we built community," said RAF Chairman John McKenna. "Big thanks goes out to the folks who traveled near and far to help as well as to those that contributed the funding needed to buy what hard work alone could not." The Richland Creek listing can be found in the Airfield Guide.
Submitted May 14, 2021