WORTH THE READ: JERRY WILKE GUEST EDITORIAL
Our many RAF supporters have such vast and varied experience, and we're capturing some of their words of wisdom to share with you. This month's guest editorial is by Jerry Wilke, a proud RAF supporter, longtime pilot, and former executive at Harley-Davidson.
It's been a year of significant milestones … The RAF turned 20 … and some of you know my long history at Harley-Davidson, who turned 120 this year.
The mission of the RAF is to "Preserve, improve, and create airstrips for recreational access." True… but that's like explaining H-D by saying, "they build motorcycles." Both true statements, but both organizations have become so much more.
Words often fall short. So at H-D we would simply say, "For those who understand, no explanation is necessary. For those who don't, no explanation is possible."
And yes, I believe the RAF is in that category and has earned the comparison. Personal opinion: the RAF is clearly operating beyond its mission. The "people connection," the relationships, campfire buddies, new lifelong friends, and kindred spirits. Both H-D and the RAF have developed way beyond what the founders had imagined. And in fact have become a core of what the organization is, and what the organization stands for!
Pilots, especially back-country pilots – like motorcyclists, I think, get a bit more out of life by developing special skills that allow them to harness the laws of physics for a finite period of time; providing a special appreciation for this world and the thrill, adventure, and freedom that comes with it. A thrill that most want to repeat, share, and preserve for those that come after us. It's not for everyone – that's the point – and that only increases the allure and desire to experience, share, and preserve.
As I get older, I find myself thinking more and more like the Ryans and the Gillettes. While few things are as thrilling as a good approach and gentle touchdown on a remote grass strip, it's almost as gratifying these days to volunteer on an RAF weekend work detail, or send a year-end contribution to the RAF to insure that this feeling and these relationships continue into my son Ross's generation of pilots and beyond.
A philosopher once said, "Those who understand the meaning of life are those who plant trees, knowing they won't be around to enjoy their shade!"
Let's thank God for the freedom of flight, and let's thank the RAF for great friendships and backcountry places to experience it! Pass it on!
Jerry has been a pilot for over 30 years and currently owns and flies a Cirrus for transportation… and for fun, with his son Ross, shares a Husky Amphib and a Husky on bush wheels. Jerry's professional career spanned 35 years with Harley-Davidson in leadership positions in sales/marketing, brand management, and product planning. Responsibilities included the voice of the customer… and the look-sound-and-feel of H-D products and the brand. Post retirement involves consulting and public speaking in the aviation, marine, and motorsports industries including 10 years on the Advisory Board with Cirrus Aircraft, serving on the board of the AOPA Foundation, and many other non-profit and charitable activities.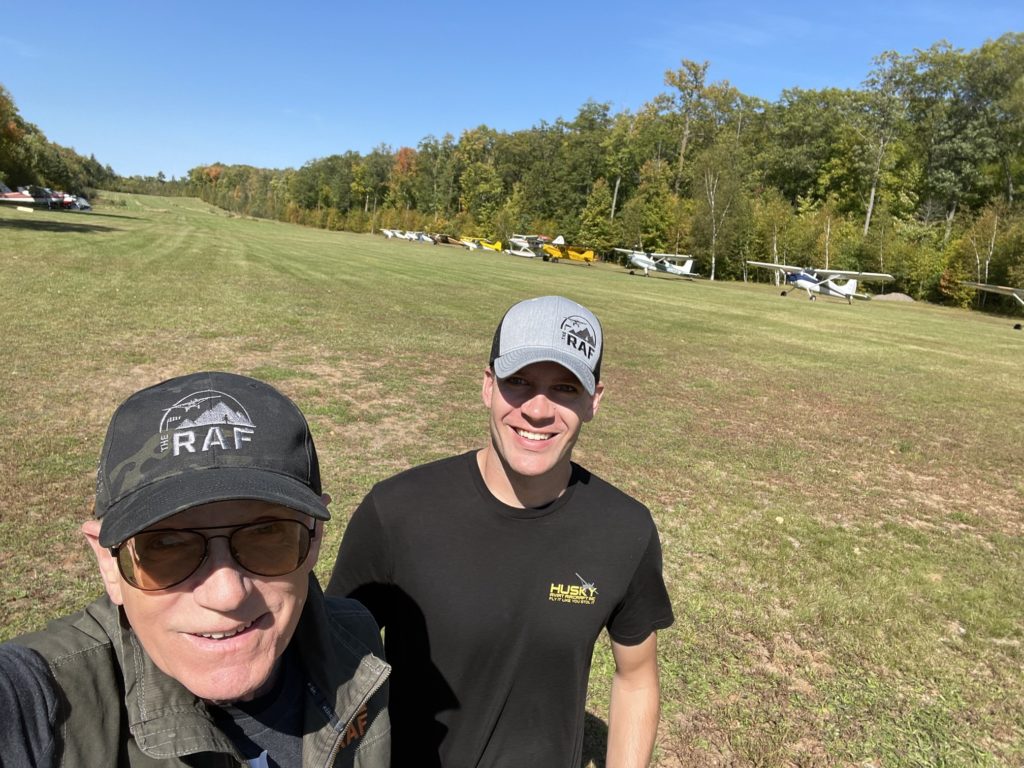 Featured image: Jerry during one of his favorite activities – providing a Young Eagles flight.
Submitted on August 30, 2023.