WORTH THE READ: JULIE BOATMAN GUEST EDITORIAL
Our many RAF supporters have such vast and varied experience, and we're capturing some of their words of wisdom to share with you. This month's guest editorial is by Julie Boatman, the editor-in-chief for Flying Media Group.
A Mountain Mentor: The RAF provides more than just support for our favorite places to fly.
Mountain checkouts ranked among my favorite dual sessions to fly during the years after college that I spent instructing in Colorado out of the Boulder Municipal Airport—then 1V5, now KBDU, a change I find hilarious. We'd fly to Aspen (KASE), Leadville (KLXV), and Steamboat Springs (KSBS), which will always hold a special place in my heart—both for its bountiful slopes and stunningly beautiful summer marathon.
I spent more than a decade based in Colorado, with every flight managing relatively high field elevations and density altitude performance reductions. Not having to lean during the runup still feels a bit strange to me today when flying in the flatlands.
But by and large those airports we'd fly into west of the Continental Divide were all paved—and well used. Though they each had their elements of objective hazard, none—not even Glenwood Springs (KGWS now) with its shortish runway and mostly one-way ops—could qualify as remote or unimproved. Therefore, I treated the transition I would make into the true backcountry with a lot of respect, because I had seen firsthand how insidious those high-country hazards can be, and how quickly the risks multiply with carelessness or neglect.
That's also why I find the work that the Recreational Aviation Foundation does so valuable. The group reaches far beyond its considerable efforts to retain access and establish and maintain places to land in every state. RAF members serve as counselors and guides to those wishing to explore these marvelous lands from the air—and with minimal impact as compared to land-based transportation, I might add.
My introduction to the types of places RAF protects began in 2005, and though my teachers weren't all RAF mentors per se, the model they collectively presented lies in the same vein.
In October 2005, I went flying on a mountain course with Lori MacNichol out of McCall, Idaho. After detailed airwork understanding her 180 hp Cessna 172's specific performance, we headed first to Johnson Creek (3U2). Then she worked us to progressively more challenging terrain and approaches: Soldier Bar (85U), Wilson Bar (C48), and Cabin Creek (I08) in the Frank Church River of No Return Wilderness. I learned immeasurably from each one, taking pieces I could incorporate into my flying, and techniques I still practice to this day.
Flash forward to October 2019, and I found myself in a beginner's mindset again under the tutelage of Fred Williams on a WomanWise Adventure Week in Cascade, Idaho. He introduced me first to his backcountry version of the Kitfox—an amazing tool—and then worked me into progressively more "interesting" places. The next day I flew with Stacey Budell in her stock Cessna 182, and though Stanley (2U7) and Smiley Creek (U87) were "easy"—save for the bear and cubs passing along the perimeter—the approaches into Idaho City (U98) and Garden Valley (U88) kicked it up a notch. Again, the tools that these sessions with experienced instructors added to my box of tricks and have served me so well, so far.
Two RAF-connected mentors have taught me even more. In October 2020, Steve Taylor not only introduced me to his beautiful bouncing beach ball of a Republic SeaBee, but also to his Cessna "184 a half" in which we plied around the San Juans near Seattle in search of ghosts and glaciers and marionberry pie.
My latest off-airport adventures I shared last August in eastern Washington state with Brad Damm at CubCrafters—to landing sites without names. The time we spent talking and thinking and flying drove home the unique nature of these spaces once more.
The mentorship from these pilots goes beyond the hard skills and techniques you learn. There's an overall philosophy you absorb through the behaviors they model—the respect for the airplane, the terrain, the land, and the people around you. You might venture out to an RAF-supported strip using the guidance you find on their website, but I encourage you to get to know the teachers within the group from whom you can learn so much.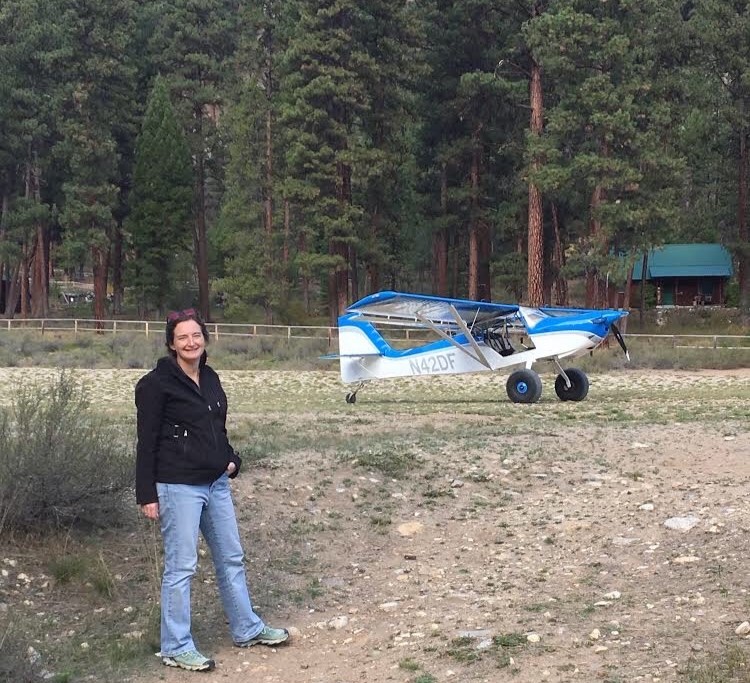 Julie Boatman learned to fly at a private strip in Iowa starting in high school. She holds an airline transport pilot certificate with a commercial glider rating, and is a CFII. Julie's the editor-in-chief for Flying Media Group, and she learns something new about the art of aviating every time she flies.
Submitted on June 26, 2023.