34 ATTEND INAUGURAL BACKCOUNTRY YOUTH FLY-IN
Thirty-four people came together the weekend of Aug. 17- 19 to share the excitement of backcountry flying and the outdoors with kids at Ryan's Field in West Glacier, Montana. Seven airplanes flew in with 10 kids while another five arrived with parties who drove in for the fun-filled weekend.
Parties came from all reaches of Montana and one from Idaho to experience the beauty of Northwest Montana at Ryan's Field and to share it with their kids or grandkids. It truly is a beautiful gateway to Glacier National Park and the surrounding area with an amazing facility constructed by the Recreational Aviation Foundation, which includes a pilot shelter and courtesy car available for pilot use.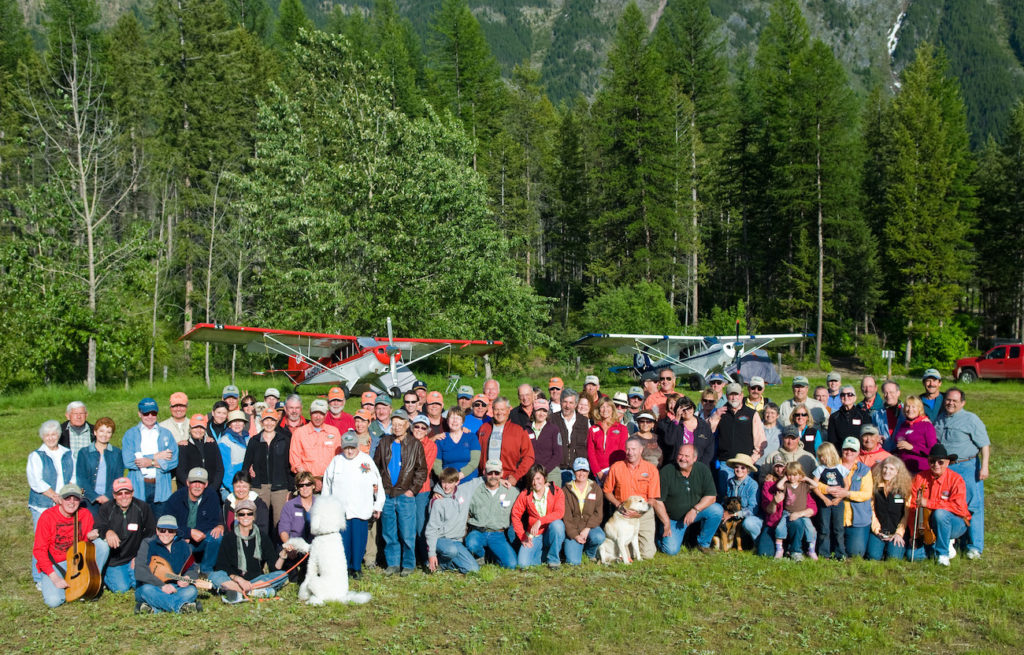 The weekend was centered on introducing youth to the joys of flying and the great outdoors and no better place to do it then at Ryan's Field. The kids had the opportunity to enjoy several individual activities ranging from horse shoes, ladder ball, and soccer to group activities of whitewater rafting and geo caching. Ben and Butchie Ryan came up and opened up the shop so the kids could tour the airplanes Ben had built over the years. There were several other activities planned but the kids had so much fun throughout the day we didn't even have the opportunity to pull anything else out of the box.
The games began after a hearty breakfast prepared by John Stene with a fun-filled event called geocaching. Eighteen sites were setup all around the area surrounding Ryan Field and groups of kids with GPSs and navigational skills in hand marched out in search of the prized "booty". Overall the winning team completed the geocache course in five hours and one minute with all sorts of new items in their pockets.
Another group donned their swimsuits and hit a guided whitewater-rafting trip down the Middle Fork with Glacier Raft Company. They had a great time enjoying the scenic byways of the river on a hot day with VERY cold water.
We wrapped up a long day with the kids enjoying some down time before dinner and receiving a tour of Ben's airplanes and shop. Dinner, sponsored by Montana Pilots Assoc, and included smoked chicken and brisket, fresh salsa dip, cucumber salad, beans, and buns. No one left hungry.
After dinner, it was time for a campfire and some fun with a carbide cannon. The kids thought the cannon was "EPIC" as they would say. We wasted the night away roasting S 'Mores, caramels and Ritz (excellent), consuming homemade ice cream, and Pete Smith showing us how to roast cinnamon rolls on a stick. The kids had a blast enjoying the campfire, treats, and amazingly bright stars and watching the satellites zoom through the sky.
We closed out the weekend activities on Sunday with a great community breakfast followed by tearing down camp and the roar of airplanes departing for home. It was great to see the excitement in all of the kids' faces throughout the weekend enjoying the outdoors and experiencing flying to a remote area. They certainly had fun with all of the activities and meeting and playing with new friends.
Sharing aviation and the outdoors with our kids is a passion for both my wife and me — and that sole reason spawned the effort on putting together such an activity. We are grateful for all of those who attended and look forward to hosting a similar event next year, so be prepared to mark your calendars.
Submitted August 24, 2012.