AIRFIELD GUIDE ANSWERS TO NATIONAL DEMAND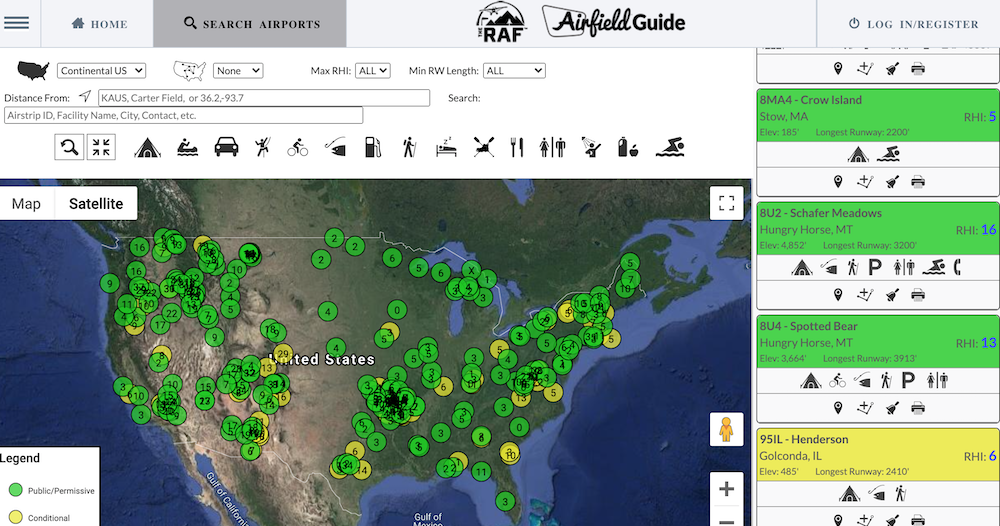 The RAF and Tailwind Aviation Foundation are pleased to announce that the Airfield.Guide now lists over 300 airfields, with destinations in each US state.

"The Airfield Guide began as a challenge to find all the grass strips in Arkansas," RAF Arkansas Liaison Dave Powell said. Powell and RAF member and IT developer Chip Gibbons took up the challenge. Chip wrote the software and Dave began leading a small group of pilots to identify local airstrip characteristics and the Airfield Guide began. Additionally Fly OZ, the interactive listing of 64 appealing backcountry airfields in the Ozarks has continued to expand within the Guide. "Refining as we went, amenities and search functions evolved as we added strips," Powell added.
The RAF was impressed with their results and a partnership formed that mutually recognized the demand for a national directory of fun places to fly. The RAF's network of state liaisons are tasked with surveying airfields with recreational opportunities for inclusion in the Airfield Guide.
Want to raft the Kings River in Arkansas? Consider landing at Trigger Gap, where local river guides will take care of you. A new pavilion is in the camping area to enhance your stay at the scenic airfield. Land and camp at Goodspeed Airport in East Haddam, CT, and stroll to the Opera House for an award-winning live show, or watch the historic swing bridge. Maybe you seek a real remote backcountry flying destination like Jake's Bar along the Chitina River in Alaska's Wrangell-St. Elias National Park. When the morning mist burns off, land at Half Moon Bay in California's central coast, where the Pacific surf is just a short hike away.
Many Airfield listings include photos, and some include videos of approaches and landings. The Guide includes public and private airfields and defines them as either Permissive (green), where users don't need to ask for permission; and Conditional (yellow), where a condition needs to be met before use, such as a required Safety Briefing or prior contact with owner.
Once you've created a user registration at airfield.guide, you'll receive updates of the new fields as they are added.
The "Manage Tour" feature can be used to plan a flight of several locations, upload it to ForeFlight®, and email it to fellow pilots.
Users will find basic details like lat/long, elevation, ownership, pattern direction, runway length, and CTAF to help make aviation decisions. You can sort by recreational amenities (camping, restrooms, fishing, cell service, etc), region, state, or runway length. RHI, (Relative Hazard Index) is included, based on Galen Hanselman's rating system to help you assess your, and your aircraft's suitability. The Airfield.Guide is also where you'll find important Safety Briefings, some of which are required to be reviewed prior to landing
by Carmine Mowbray
Submitted August 19, 2021