AIRFIELD.GUIDE LISTS FIFTIETH STATE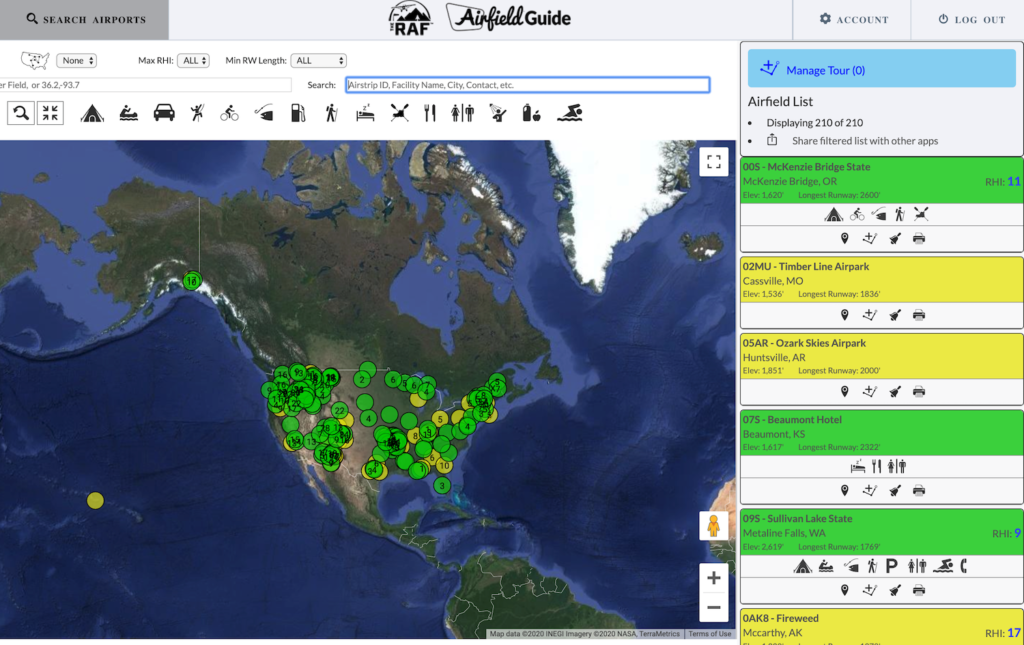 The RAF and Tailwind Aviation Foundation are thrilled to announce that the Airfield.Guide now lists airfields in every US state. The owner of Rhode Island's Riconn airstrip, (RI11) has allowed his strip to be listed, becoming the fiftieth state to be included.
"It seems like every time I get in front of pilots and tell them about the mission of the RAF and the fantastic places we help to secure for them, I get the question, 'So how do I locate these great places and get information about flying there?'" RAF President Bill McGlynn said, adding, "This has long been a challenging question for us, but no longer. We now direct them to the Airfield Guide."
The Airfield.Guide is free to use, and once you've created a user registration, you receive updates of the new fields as they are added. Go to airfield.guide to register.
The Guide includes airfields on public and private lands and defines them as two types, Permissive (green), where users don't need to ask for permission; and Conditional (yellow), where a condition needs to be met before use, such as a required Safety Briefing; or prior contact with owner.
Users will find basic details like lat/long, elevation, ownership, pattern direction, runway length, and CTAF to help make aviation decisions. You can sort by recreational amenities (camping, restrooms, fishing, cell service, etc), region, or state, even runway length. Where full airstrip surveys have been completed, RHI, (Relative Hazard Index) is included, based on Galen Hanselman's rating system to help you assess your and your aircraft's suitability.
The Airfield.Guide is also where you'll find important Safety Briefings, some of which are required to be reviewed prior to landing.
Many listings include photos, and some include videos of approaches and landings. The "Manage Tour" feature can be used to plan a flight of several locations, upload it to ForeFlight, and email it to fellow pilots.
"It's a great resource. Thanks to all the RAF volunteers who put in the time to get info on hundreds of airstrips. We want to cover that map with pins!" McGlynn said.
Submitted on March 3, 2020