AIRFIELD.GUIDE TAKES OFF WITH FUN PLACES TO FLY TO!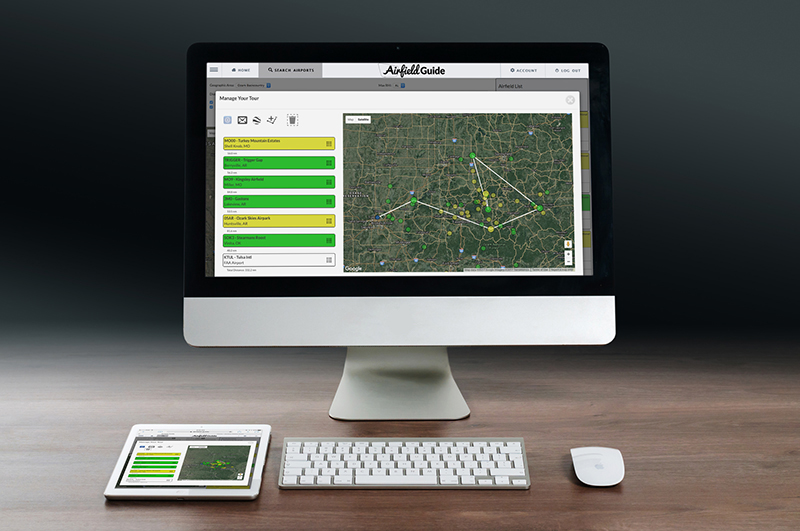 The idea of an airfield guide came about in response to repeated requests for a comprehensive listing of recreational places to fly. Created in cooperation between the RAF and Tailwind Aviation Foundation, all of the work is provided by volunteers. With its genesis in Arkansas, it began with a majority of Arkansas recreational airfields. RAF member and supporter Chip Gibbons began writing code and with the help of RAF Arkansas Liaison Dave Powell and others, began adding airfields and beta testing the program. They created a comprehensive survey form and RAF state liaisons were tasked with sending in appropriate airfields for consideration. Once the information is verified the location is added.

It's free to use, and once you've created a user registration, you receive updates of the new fields as they are added. See airfield.guide to register.

The Airfield.Guide home page states, "New places. New adventures," and as of this writing, the site lists 231 airports, with 56 in Arkansas; Missouri is second highest with 18; Montana third with 17; Oregon comes next with 15, followed by Oklahoma with 14. As advertised, the geographic region has grown – 49 of 50 states are now represented – with more recreational airstrips and airfields added all the time. Airstrips are defined as two types, Permissive (green), where users don't need to ask for permission; and Conditional (yellow), where a condition needs to be met before use, such as a required Safety Briefing; or prior contact with owner. These are clearly defined in the Airfield.Guide.
You'll find the many features of the Airfield.Guide very helpful in planning your flight. You can sort by recreational amenities (camping, restrooms, fishing, cell service, etc), runway length, region, state or RHI, Relative Hazard Index, where full airstrip surveys have been completed, (RHI is based on Galen Hanselman's rating system). Many airstrips include photos, and even videos of approaches and landings. The "Manage Tour" feature can be used to plan a flight of several locations, email it to fellow pilots, then all can upload to ForeFlight for navigation to those strips. Additionally, you'll find the basics, lat/long, elevation, ownership, pattern direction and CTAF. Going forward, The Airfield.Guide is also where you'll find important Safety Briefings developed for specific airstrips, some of which are required to be reviewed prior to landing and again, details to gain knowledge to help you make appropriate decisions before you fly there.

RAF President Bill McGlynn said, "This is an important focus for us in 2020. We would like to double the number of airfields in the Airfield.Guide."
The RAF thanks the Tailwind Aviation Foundation, Powell, Gibbons and each state liaison for contributing potential airstrips.
Submitted on February 26, 2020