AN RAF WEEKEND AT FLORIDA'S BLACKWATER RIVER STATE FOREST AIRSTRIP
When Drew Hatch and Gary Brooks were first denied permission to land and camp at a state owned airstrip in the Florida Panhandle, they had never heard of the Recreational Aviation Foundation (RAF).
And when Drew finally found the RAF, the foundation had never heard of the Blackwater Airfield (8FD3) located within the 210,000 acre Blackwater State Forest.
Fast forward two years to the weekend of March 30, 2013, when Drew and Gary finally got their wish as the RAF hosted a weekend gathering at 8FD3 – what they hope to be just the beginning of aviation access to the Blackwater Forest.
The RAF is a national organization whose mission is to preserve, maintain and create recreational airstrips nationwide. Prior to the Blackwater project, most of the foundation's work had been accomplished with federal land managers including US Forest Service, National Parks and Bureau of Land Management.
"This is our first time working with a state forest," explained RAF director and Central Florida resident Tim Clifford, "and while it has taken some time, the Florida Forest Service has maintained a 'let's find a way' attitude throughout the process.
The 4,000-foot grass strip was originally constructed with intended use for firefighting, forestry and law enforcement. It coincidentally is located within 100 yards of the Krul Lake Recreational Area that includes a campground, swimming lake and shower / restroom facilities. Surrounding the area are numerous recreational opportunities including fishing, hiking, canoeing and horseback riding.
"I think it is safe to say that no more than a handful of recreational airstrips in the country offer the amenities of the Blackwater," Clifford went on to say. "If you were to define the ideal recreational aviation destination this would be it. Every kind of activity imaginable is either here or a short hop away, including some of the world's most beautiful beaches and, of course, the National Naval Aviation Museum."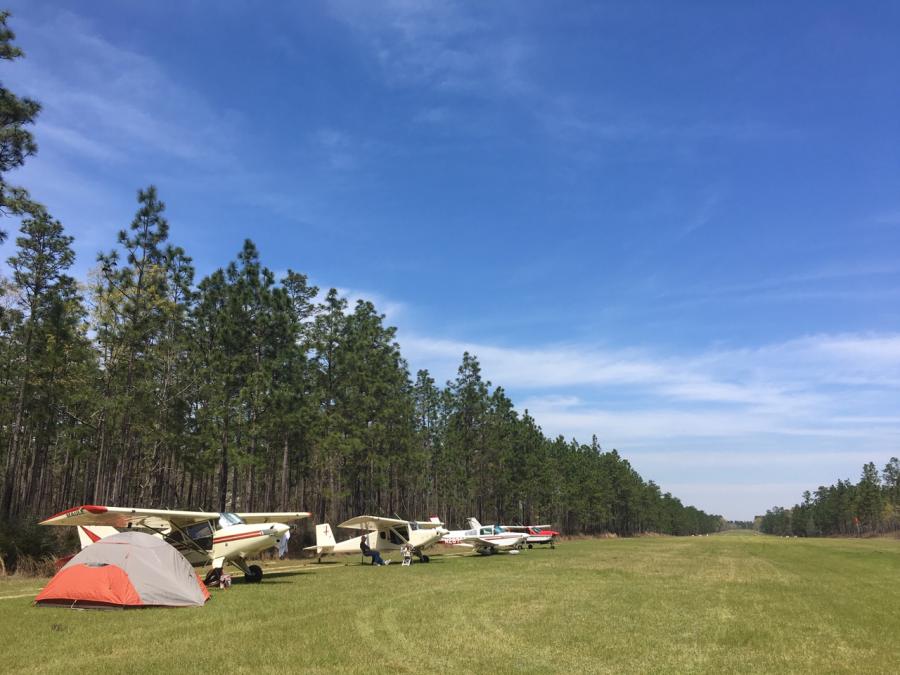 The RAF weekend saw a gathering of aircraft, ranging from a Champ to a Swift, some Cessnas, Stinsons, Maules and a Piper Cherokee, with more than 60 guests traveling in from around the state. A well-organized volunteer work party performed some much-needed maintenance, including painting runway markers and wind indicators as well as filling runway potholes and knocking down ant hills. Friday arrivals were treated to Drew's "not" world-famous chili for dinner and cook-your-own steaks were accompanied by a wide selection of "favorite dishes" brought by guests on Saturday evening. At the end of each day, attendees gathered around a robust campfire to share the day's events, tell a few tall tales of flying adventures and make plans for tomorrow.
Watching the activity Saturday afternoon, Gary Brooks observed, sounding just a bit like a proud parent: "We're sure glad we found the RAF, this is going to be a great place for folks to visit for years to come!"
RAF member Pat Lee agreed and summed up the enthusiasm of the weekend in his thank you email: "I hope we (RAF) have blazed a trail for others. I am proud to be a member."
The RAF is in final discussions with the Florida Forest Service to arrange ongoing aviation access to the Blackwater and hopes to announce that the airfield is open within the next few months.
Submitted April 4, 2013.