ARIZONA'S DOUBLE CIRCLE RANCH GETS NEW PORCH ROOF
Thanks to an abundance of willing labor, the old Double Circle Lodge in the US Forest Service Apache Sitgreaves​ Clifton District got a new porch roof May 8-10. The USFS and local support has made the Recreational Aviation Foundation's efforts possible at the old Double Circle, and RAF's work on the national scene helped grease the skids.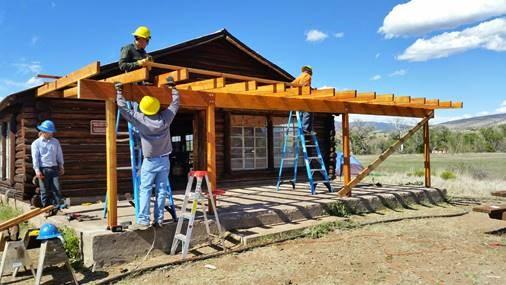 The roof was our own design and we had one shot to get all the right materials, tools and hardware to the site. I really appreciated that all the wood was oiled and ready when I arrived.
Due to high winds in my area, I regret I had to drive in, but 15 aircraft, including two from NM flew in, and along with vehicles, brought roughly 35 people, including the Forest Archaeologist and Recreation intern.
Being classified as "historic preservation," special measures and design were required to ensure a period look – no prefab metal brackets and a great deal of attention to aesthetic detail, making this more challenging than your average construction project. Thanks a bunch to all those who found other things that needed attention around the site!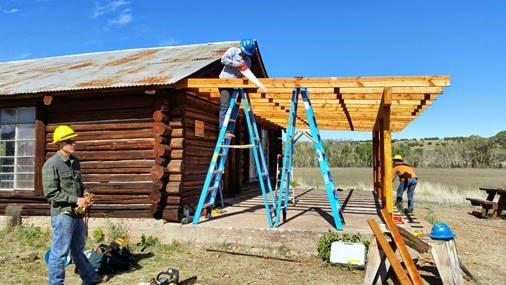 Again, locals showed up eager to work with the "airplane folks." One couple drove eight hours to help. Other locals provided our grill and brought the new picnic bench/tables from Costco (Thanks Darcy!) Mike Wilson is putting together a video documentary of the project.
We have also begun a friendly partnership with our new Forest Archaeologist, Eric Bredemann, of the Clifton Ranger District. Eric jumped through hoops to get this project approved by the State Historic Preservation Office in time for the weekend.
The project would not have been complete without a lot of good cooking from Diane Wisda and Rick Bosshard, and all the side dishes carried in by participants made for banquet meals.
Our visitor log revealed a nice reward: A three-page entry written by the great-granddaughter of Abner T. Wilson whose family ran the Double Circle for over two decades in the early 1900's. The visitor entries indicate that a lot of folks appreciate what we're doing to save this historic ranch.
 Our next project may be replacing the many broken windows on the lodge, hopefully for the National Public Lands event the last weekend of September.
Submitted on May 19, 2015.