AUGUST FEATURED AIRSTRIP: HAVANA REGIONAL, ILLINOIS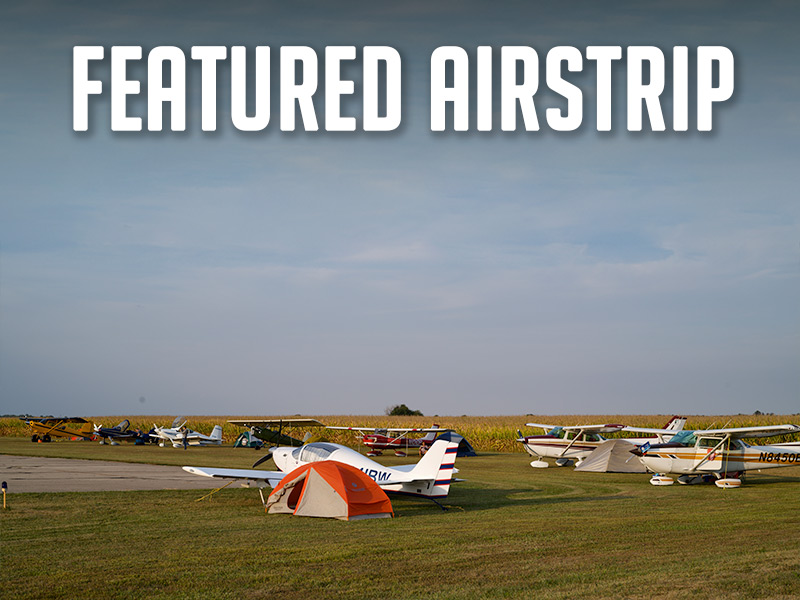 Each month we highlight an airstrip with hopes that you will get out and enjoy these special places. This month, we're featuring Havana Regional, IL.
Havana Regional Airport in Illinois, (9I0) is near a small, welcoming town on the Illinois River. Thanks to the creativity and efforts of RAF Illinois Liaison Mike Purpura, Havana's recreational opportunities will stretch your imagination, as well.
Purpura has coordinated efforts with the Mayor, members of the Airport Authority, Airport Manager Bob Martin, and volunteers from EAA Chapter 1420 to expand the reasons to land at Havana, and has been successful gathering fly-in guests for memorable experiences.
"Havana is away from city lights and has a spectacular night sky," Purpura says. To take advantage of that asset, he organizes an annual overnight stargazing fly-in, beginning with a Friday evening cook out. The runway lights and beacon are turned out, surrounding folks with darkness along the 2,200-ft turf runway. University volunteers and other astronomy enthusiasts switch their red flashlights on, and guide visitors to observe phenomena through a dozen high-powered telescopes. Underwing campers enjoy waking up to a pancake breakfast before departing with their new awareness of the heavens.
Purpura arranges an early springtime field trip to the nearby Emiquon Wildlife Refuge to view a stunning array of migrating birds. "Event guests enjoy a great breakfast put on by Bob Martin and the EAA Chapter, sponsored in part by our friends at the Port Authority, that sustains everyone for the trip to the refuge," Purpura says. Transportation to and from the refuge is provided.
With his goal to improve amenities at Havana, Purpura was awarded an RAF grant for a picnic pavilion and fire ring, a popular place for campers to congregate at day's end. The Airport Authority added year-round showers to the restrooms for a more comfortable camping experience, and invites you to view ATC action from the new tower they open to the public.
The RAF invites you to Havana anytime to enjoy the town and local attractions. The good folks at Havana have a courtesy car and would love for you to fly in and take a drive to Chautauqua refuge for to hike, camp, or rent a canoe.
For more information about Havana on the Airfield Guide, click here. Watch the RAF calendar for more activities in Havana.
Submitted July 31, 2023.