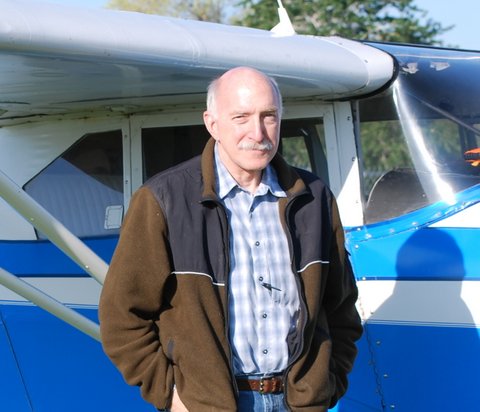 Bob Christensen of Ashton, Idaho may claim a healthy case of beginner's luck, but those who know him would say he is simply quite skilled. His first aircraft fabric recover job was on his own "basket case" 1947 PA-11 Cub, which he'd put back together and flew to Airventure in Oshkosh. His friends encouraged him to enter it for judging, and it earned him Grand Champion in the Vintage Class. Now in retirement from his teaching, coaching, and flying career, he occasionally recovers aircraft. "Once I retired, my business plan was never to make any money, and that's working out good," Bob says. It's obvious he does good work, and also finds himself in demand for nice wooden pieces that he creates in his woodworking shop. "I just ask folks to donate what they feel my products are worth to charity," he says.
Bob's flying career began at age 15 when legendary aviation businessman Bob Johnson put him to work driving the 2,000 gallon fuel truck around the Missoula, Montana airport. Young Bob got his pilot license, advanced certifications, and started flying for Johnson Flying Service, spotting, dropping smokejumpers, and eventually retardant bombing all over the West. "It was my second home. I loved it there," he said. Among his colleagues were Johnson's "third generation" of pilots, including Penn Stohr, Jr. He then flew the Caravans for Corporate Air in Billings, a FedEx contractor.
Three decades ago he bought a 1959 Piper TriPacer, and alternates flying it and the Cub to Oshkosh each year, saying, "I check the weather, and if I want to just relax, I fly the TriPacer." From his home in Idaho, that's an eight-hour flight, not counting weather delays, or diversions around Class B airspace.
In addition to his various flying – which included twenty fire seasons, and one season of crop spraying – Bob had a full career teaching high school biology and math, PE, and was the wrestling coach at Ricks College (now Brigham Young University-Idaho). When that program changed, he stayed on in the field of Exercise/Physiology.
Flying and woodworking is a perfect avocation for Bob, as he also serves as his wife's caregiver. They have five grown children, one of whom has made a career of the US Air Force. He is flight engineer on the C-5 Galaxy transport aircraft. You may see Bob out in the backcountry in either his Cub or his TriPacer, and it's likely he'll be doing something voluntarily for the RAF.
Submitted on May 11, 2022.