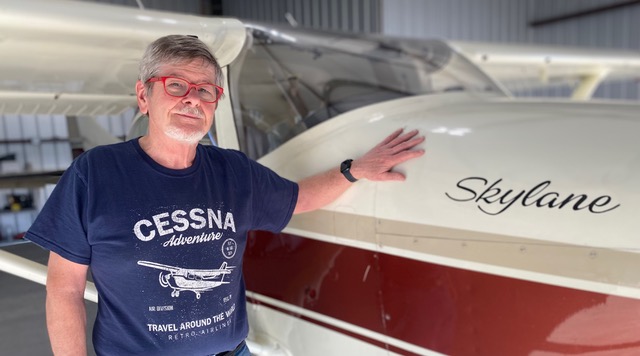 Three things stand out among RAF supporter Bob Martin's passions: aviation, his devotion to Havana Regional Airport, and the newspapers his family started in 1855. Bob is the fourth continuous generation to publish these Illinois community newspapers.
Very few people can talk about how their family members were contemporaries of Abraham Lincoln long before he became the 16th President. "My great-great uncle published the Fulton Democrat, so the newspaper had to endorse Stephen Douglas, even though my family knew Mr. Lincoln, and knew he was a good guy," Bob says.
Bob's personal email is CessnaBob, and his "daily driver" is a STOL 182H that he flies out of Havana about 80 hours each year. He and his wife Wendy enjoy flying into turf strips for recreation. "Here at Havana, we're in the middle of nowhere, far from anywhere, so we're 'backcountry' too, including a grass strip," Bob says. With that spirit, Bob, as a director on Havana's Port Authority board, has helped improve the airport for recreational opportunities.
"When we told him how some visitors flew in to camp just to appreciate the dark night skies here, Mike came up with the idea of doing an Astronomy Night. That has been hugely popular with the community," Bob says.
"The RAF actually has played a big part in the direction the airport has taken in recent years," Bob says. It was seeing the airport through the eyes of RAF Illinois Liaison Mike Purpura that opened their eyes to ways both the Airport Board and local EAA Chapter 1420 could promote the airport near and far.
Purpura is also credited for suggesting the development of a Migratory Bird Fly-In that attracted more than two-dozen visitors from four states just this past March.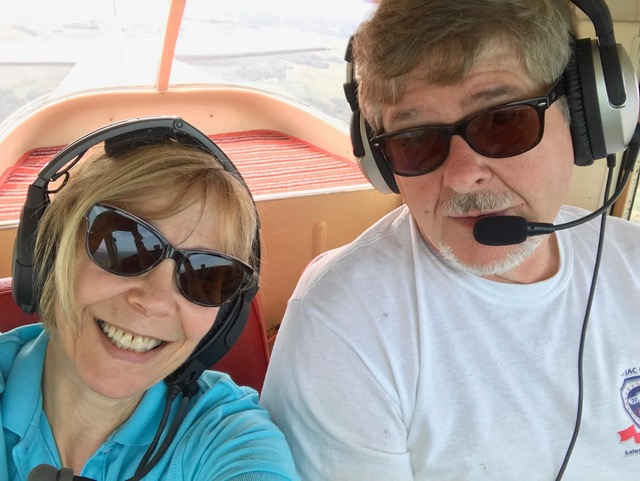 Bob and other volunteers from EAA Chapter 1420 were able to use an RAF grant to construct a picnic pavilion that complements their appealing terminal, with conference room, kitchen, restrooms, and showers. The airport has a camping and picnic area with fire ring. Bob is especially proud of the expanding stand of hardwood trees the group has planted to create a shady grove for the picnic area.
One of the most unusual features of Bob's home airport is the observation tower one of the EAA members constructed. "He's a talented contractor. He built an observation tower on the ground, and used a crane to hoist it into position. All the materials and labor were donated," he added.
Being self-employed, Bob says he can choose his time to serve the airport's needs, maintaining the facilities, mowing, and a doing lot of State and FAA clerical work. His spare time is limited, and as an EAA aircraft builder, he's in the middle of building a Van's RV 7-A. "I'm in the tenth year of a two-year project," he jokes. Wendy is editor of the papers, and has won awards for investigative journalism, and also served as president of the Illinois Press Association. "She's my co-pilot in business, and when we fly," Bob says. "I couldn't do this without her." Martins have grown children and grandchildren who also enjoy flying.
"I have appreciation for the network of people in the RAF who are developing strips throughout the country – rehabbing them, make them available for public use, which is great," he says, and he and Purpura are turning their attention to a couple of abandoned Illinois airfields with hopes to restore them to safe use for recreational access.
EAA volunteers host cookouts and pancake breakfasts, in addition to fly-in events. The flying public is certainly the beneficiary of Bob's energy and connections, and can now enjoy many amenities and feel welcome at this place "far from anywhere."
Submitted on April 14, 2023.