BOISE RMEC WEST FEATURES RESULTS OF COLLABORATION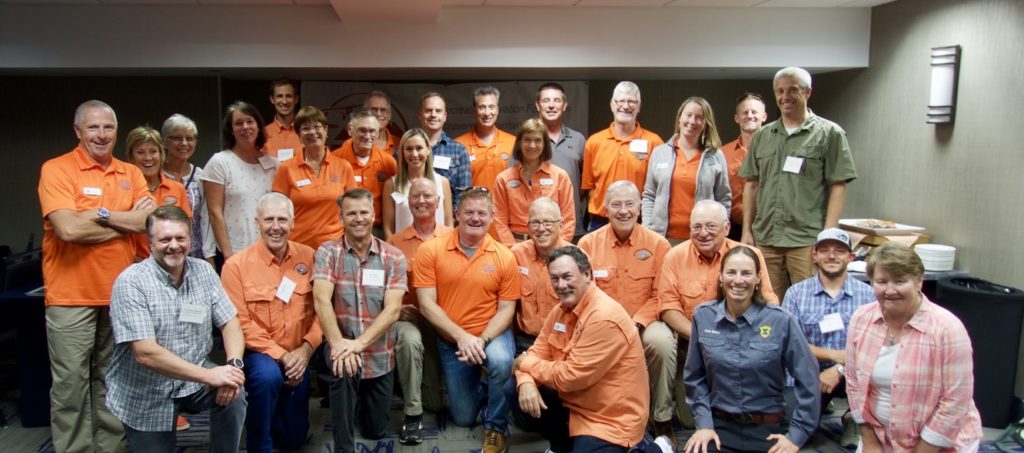 Twenty-four RAF volunteers spent a full Saturday on August 10th learning ways to further the RAF mission at the second of three 2019 RAF Mini Educational Conferences (RMECs). The August 9-11 regional meeting was held in Boise, Idaho, and several attendees flew in to Gowen Field, where Western Aircraft graciously provided a fuel discount and waived tiedown fees.
Friday evening's dinner speaker was Ross Engle of Idaho Division of Aeronautics, who emphasized that the Division needs cooperating groups like the RAF and Idaho Aviation Association to help keep Idaho's 31 state airports—many of which are in the backcountry—safe and appealing. He said these volunteer user groups "are innovative, and can accomplish much by leveraging their participation."
RAF Chairman John McKenna recapped the sixteen years since the concept of saving airstrips was first discussed around a Montana campfire and that the RAF roster now approaches ten thousand names.
RAF Treasurer Mike Perkins summarized the grants awarded in 2019. Projects span the country in Oregon, Colorado, Montana, Minnesota, Wisconsin and as far east as an airfield in an apple orchard on a Vermont island in Lake Champlain.
Saturday's guest speakers included Idaho Aviation Association president Andrew George, and Idaho Fish and Game wildlife biologist Jessie Shallow who described the successful re-opening of Cougar Ranch airstrip, along the Middle Fork of the Salmon River. RAF Director Todd Simmons and Ambassador Andrew Simmons held everyone's attention with a video and talk on the importance of pilot, aircraft, and emergency gear preparation especially when flying in remote backcountry. RAF Oregon Liaison Richard Mayes shared a presentation about his participation on the Hells Canyon Recreational Collaborative, fostering positive communication between the many recreational user groups, and specifically to preserve its six existing airstrips.
Each RMEC is geared to be a regional opportunity for RAF state liaisons, ambassadors, and key volunteers to share issues, concerns, and opportunities relevant to their own region.
Spouses and guests are always welcome, and they joined Saturday's festive dinner on the rooftop of the popular Owyhee Tavern. The RAF wishes to thank each volunteer, guest, and speaker for taking the time to attend.
The final 2019 RMEC is scheduled September 20-22 in Piqua, OH (I17), home of Hartzell Propeller.
Submitted on August 13, 2019