BREAKING NEWS: TORNADO HITS SUN 'N FUN
Lakeland, Fla. — A tornado struck the Lakeland Airport during the Sun 'n Fun Fly-in on Thursday afternoon, Mar. 31, 2011, causing extensive damage to numerous aircraft in vendor displays and on the flight line. In the aftermath of the storm, twisted and flipped aircraft littered the display area.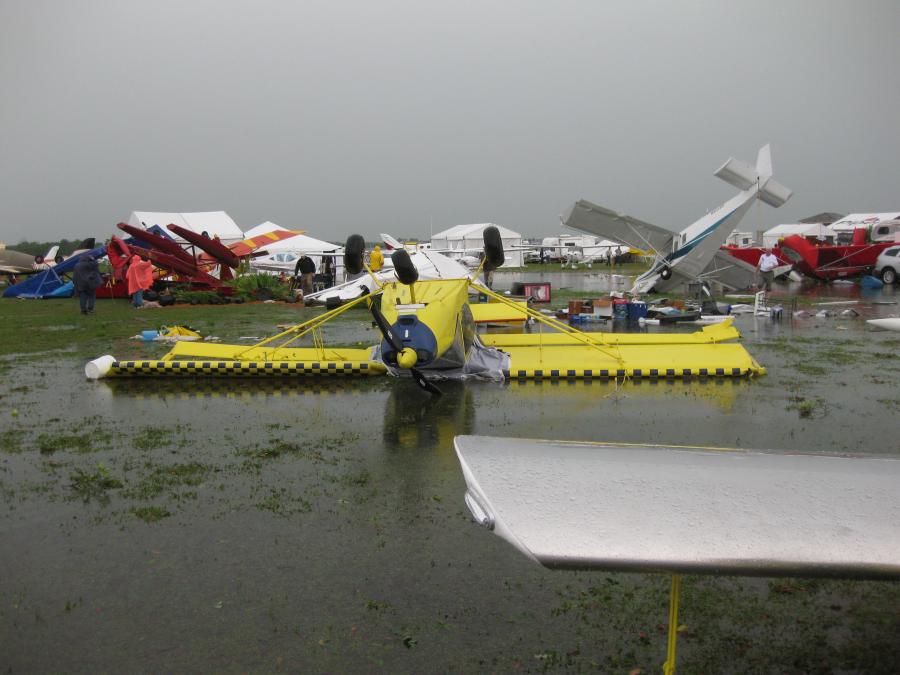 The RAF had a full complement of folks in Lakeland with 14 on hand, and the entire team was at ground zero during this most unfortunate event. The onset was sudden, and the RAF tent became a shelter for many passers-by who were seeking refuge from the storm. Our tent held tight, unlike those of many vendors around us. There are some early reports of injuries, but no fatalities. Fortunately, our only casualties were a damaged display aircraft, broken TVs, and some wet shoes and shirts. We all made it out of the Sun 'n Fun area safely, and will have to wait until we can return tomorrow before we can fully assess the damage.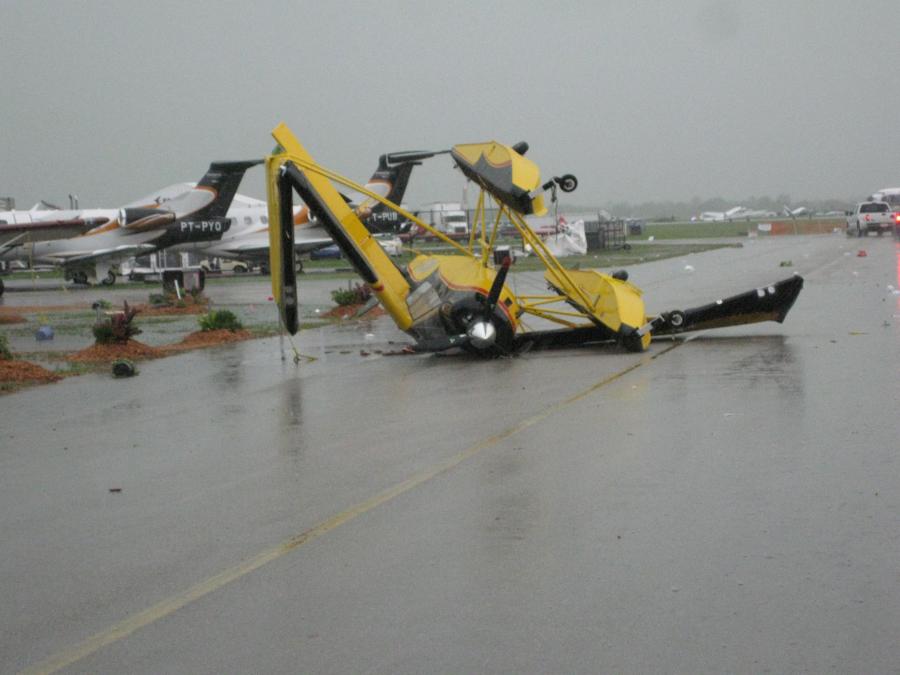 The Aviat Husky in front of our tent stayed in place until the winds—which were reported to exceed 100 mph—peaked, tearing the aircraft from its tiedowns and blowing it across the street (see video below).
Maryland RAF liaison Craig McCullough commented on the dark green color of the sky just before the major wind and rain started in earnest. RAF supporter and volunteer Carl Hicks said he felt as though he was back in combat where you really don't know where the danger is coming from and where it might come from next.
The RAF extends our hearts and prayers to all that suffered from the storm. We were overwhelmed by the volume of calls from people around the country who were concerned for our safety.
Click here: Aviat Husky Tearing Loose From Tiedowns in Storm from Recreational Aviation Foundation on Vimeo.
Click here: The Aftermath of the Sun 'n Fun Tornado from Recreational Aviation Foundation on Vimeo.
Submitted on March 31, 2011.