CARING FOR UTAH'S ESCALANTE SHELTER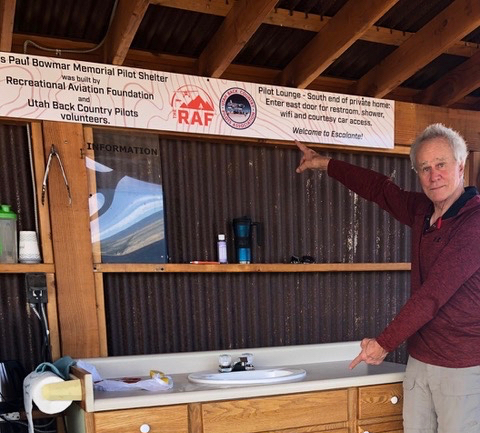 The rustic pilot shelter at Escalante, (1L7) was built with funds and volunteer labor from the RAF, the Utah Back Country Pilots, many private donors and local volunteers, and was dedicated to the late Paul Bowmar in 2013. Readers may recall the RAF's "A ten-spot for a tent-spot" campaign which brought donations from all over the country. The airport is southeast of town on Highway 12, the "Journey Through Time Scenic Byway", and is lined on both sides by picturesque Grand Staircase-Escalante National Monument.
RAF Utah Liaison Wayne Loeber and RAF Publicity Liaison Carmine Mowbray have installed new signage at Escalante and performed other maintenance. Linda Mansell's family donated enough split firewood to fill the wood crib. The rustic shelter has potable water, electricity, a gas barbecue, microwave, and mini fridge, and is surrounded by several scenic tent spots and commemorative fire ring.
Visitors can also enjoy a heated (and cooled) pilot lounge with wifi, restroom, shower, and Keurig-style coffee – sponsored by the local ATV rental enterprise. A courtesy car is available, as is avgas, sold by Sphere One.
Airport manager Louise Barnes goes well beyond her city obligations to make Escalante welcoming. She described coming improvements to the 5,000-ft paved runway. A paved turnaround at the north end of the runway should be completed by July, and webcams and an AWOS-3 are planned for future operation.
See airfield.guide for details.