CARVER'S CUT OPENS WITH RAF WEEKEND CAMPOUT AND WORK PARTY
The first-ever Fly-in weekend at Carver's Cut airstrip Aug 25-27 brought 15 planes and 30 folks to the newest recreational airstrip in California's southern Sierra Nevadas. Guests enjoyed camping, potluck meals, trout fishing, hiking, and fellowship under the festive lights of the new pilot shelter.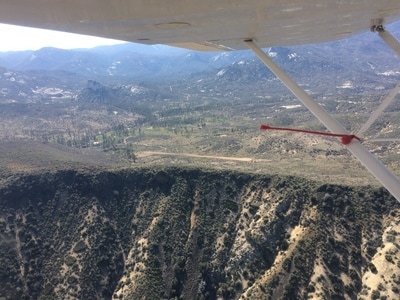 Anthony Longobardo, the RAF's newest California Liaison, opened his new strip 10 minutes north of Kern Valley Airport (L05) for the event. At an elevation of 4,500 ft, and 1,400 ft long, it is advised for "capable airplanes only." Anthony joins veteran RAF California Liaison Rick Lach, who he said, "had a lot to offer" about the process of creating new airstrips. "Rick and I answered a lot of questions about RAF's mission and purpose," he said.
"I was wearing two hats as a both an RAF Liaison and an airstrip owner," he added. "There was conversation all weekend about airstrip development in the Sierras around Kern Field and Death Valley National Park," Anthony observed.
Volunteers were directed by cabin designer/builders Walt Snyder and Chris Brown. Some leveled tent platforms, painted, mowed tiedown and airstrip weeds, and set up a safe shooting range area and prepared the ATV for guest use. Other airstrip founders Tom Livermore, Patrick Cox, the Silicz boys, and Dustin Mosher enjoyed seeing how much visitors appreciated the open house.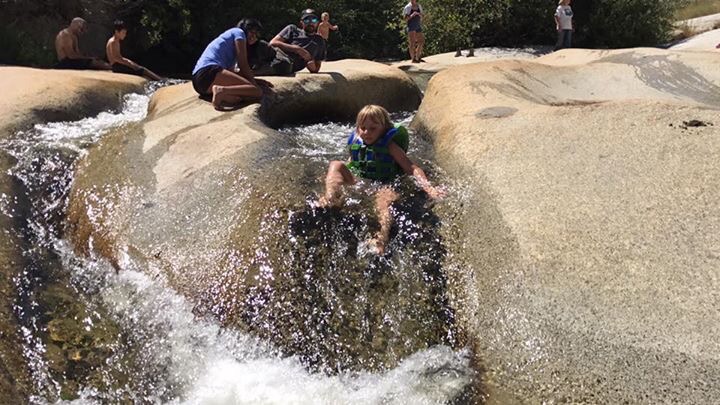 It was a very family-friendly weekend and the kids loved the natural rock waterslides just a few minutes' walk from the airstrip, riding around camp in the back of the Polaris and assembling model airplanes that Brad Pinnell and Molly Varese created using scrap wood. After dark they lit glow sticks that Janice Dier brought. Everyone shared food and drinks, and raved over Joe Dier's competition-level mesquite smoked ribs and chicken. A rattlesnake that met its untimely end found his way into a hearty stew.
Soft country music broke out around the campfire, and "brilliant starry galaxies higher than we could fly captured our hearts and confirmed to us all that we were indeed some of the luckiest people and pilots around," Anthony concluded.
Submitted on August 29, 2017.