CLEAR SKIES FOR OREGON COAST FLY-IN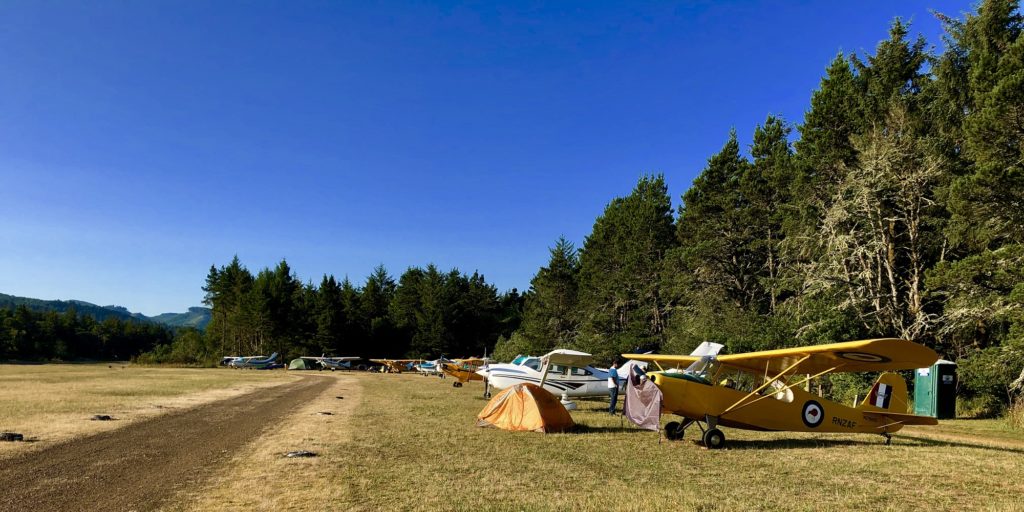 RAF Oregon Liaison Richard Mayes and wife Sarah, an RAF Vice President of Appreciation, report a successful fly-in event at Nehalem Bay State Airport (3S7) July 26-28.
This year's event saw 25 attendees in 18 aircraft taking advantage of the weekend's lovely sunny weather. Most camped overnight and enjoyed Nehalem Bay State Park, the adjoining town of Manzanita, and the beautiful Oregon coast beaches. A popular walk was along the beach into town to enjoy Tillamook ice cream.
"I was particularly gratified that a number of attendees commented on how welcoming everyone was," Richard said. "Two young lady pilots were experiencing their first airfield camping event. They were both very motivated and stated that they hope to attend more RAF activities," he added.
A potluck barbecue on Saturday night featured Sarah's well loved dry-rubbed pork ribs, augmented by delicious side dishes attendees brought to share. "Pat and Terry Muffett provided a seemingly unlimited supply of firewood and popcorn for the community bonfires as we viewed the passing of the International Space Station through crystal clear night skies," Richard said, adding, "We look forward to getting together again next year."
Submitted on July 29, 2019