COOPERATION ON HELL'S CANYON AIRSTRIP MAINTENANCE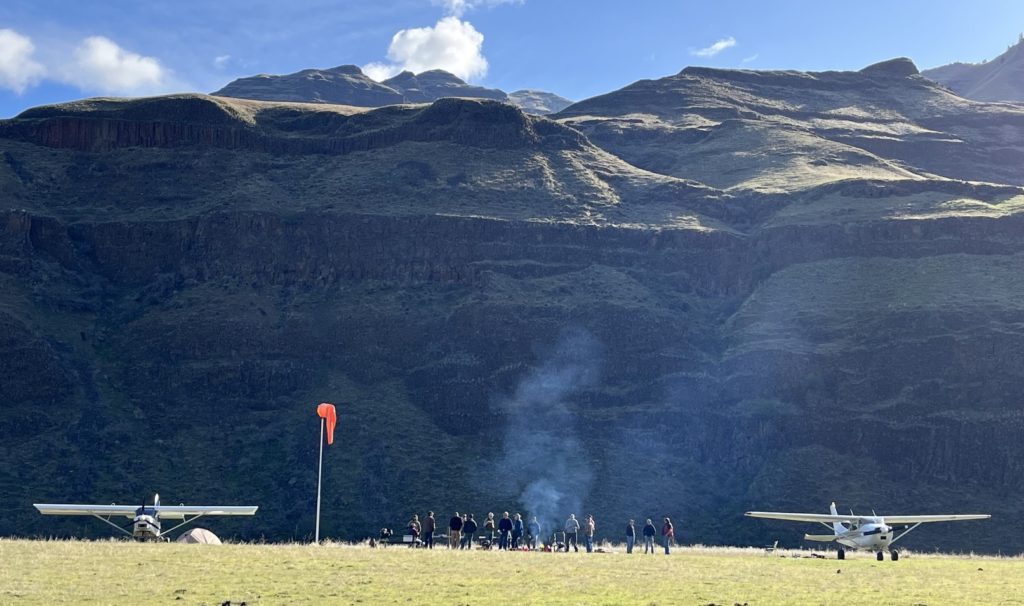 RAF Oregon Liaison Bill Ables reports that April 22 brought perfect weather and 16 aircraft from Washington, Idaho, and Oregon into Hells Canyon to help with an annual Canyon airstrips volunteer work party.
Everyone arrived at Dug Bar, OR8. "We enjoyed the heat of a campfire for a short time while we introduced ourselves around the group of about thirty folks," Ables said, adding, "It's always enjoyable to meet folks who are volunteering for the first time at one of our work parties."
Soon the group got busy loading lawn mowers, handheld and walk-behind weedeaters, paint, rakes, and shovels into the aircraft. Some volunteers stayed and worked at Dug Bar while others flew off to work on airstrip maintenance at Big Bar, 1DA; and Sluice Creek, O68. Runways were mowed, weeds were whacked in parking areas, runway marker rocks were painted, and new windsocks were installed.
Around noon folks started returning to Dug Bar after completing tasks at the other airstrips. Mona Williams, retired Wallowa County District Attorney and Circuit Court Judge prepared a hearty lunch for everyone. Mona was born and raised in Wallowa County, but had never been to Dug Bar. "It was a classic win-win for Mona and the other volunteers. Great food for everyone and her first time flight into Hells Canyon," Ables said.
Reflecting on the day of collaboration with Idaho Aviation Association and Oregon Pilots Association, Ables said, "We appreciate all of the folks who came, many who have given endless hours of their time at many of these events in the past."
---
About Hells Canyon
What is Hells Canyon and the Hells Canyon Recreation Collaborative (HCRC)?
Hells Canyon is North America's deepest river gorge. There are six primitive airstrips in Hells Canyon National Recreation Area along the Snake River, preserved for public use: Dug Bar, Cache Creek, Salmon Bar, Ragtown Bar, Big Bar and Sluice Creek.
The HCRC is a 501(c)3 formed in 2016, composed of eight major groups: rafters, jet boaters, aviators, motorized recreationalists, commercial outfitters, backcountry horsemen, citizens-at-large, and local government and the U.S. Forest Service. Idaho Congressman Russ Fulcher honored the Collaborative within the Congressional Record in 2022. In part he stated, "Our country is blessed with abundant natural resources . . .The governance of those resources is the responsibility of all of us – to make our outdoor spaces manageable and accessible for the enjoyment of all." He included several mentions of aviation, and concluded the proclamation by saying, "I am proud to highlight the men and women who stepped up and made a difference for the benefit of all users in the Hells Canyon River area."
The RAF is pleased that Congressman Fulcher recognized the efforts and results of the HCRC, and memorialized it in his official proclamation.
Bill Ables, an RAF Oregon Liaison, serves as one of its co-chairs. Ables said, "The neat thing about this collaboration is that decisions are made by all kinds of user groups." RAF Oregon Liaison Richard Mayes was an early proponent of the RAF's involvement in HCRC, and was awarded an RAF grant toward its steering committee to clarify the RAF mission within HCRC goals.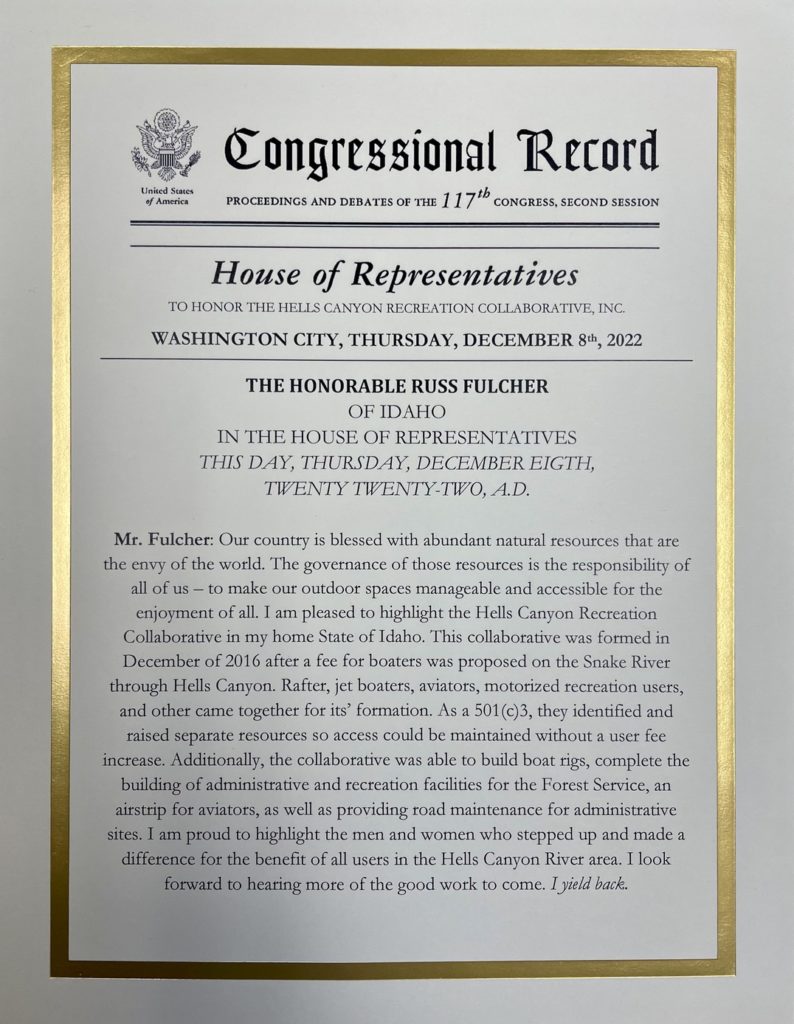 Submitted on May 15, 2023.
Top photo courtesy of Amanda Rahn.