CREIGHTON ISLAND CREW TACKLES TREES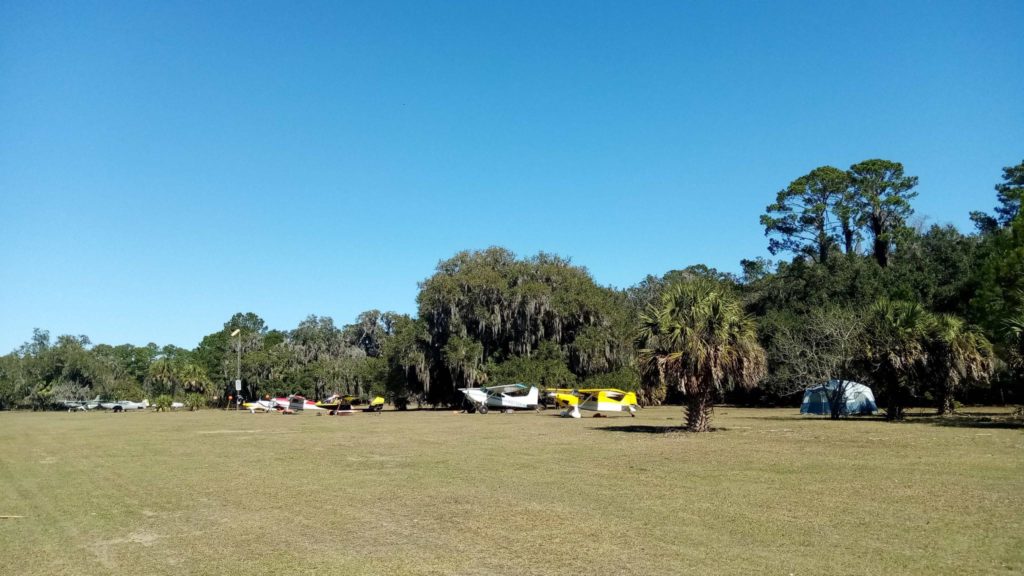 Creighton Island owner Frank Williams welcomed RAF volunteers the weekend of February 17-19 to cut what RAF Florida Liaison Bobby Capozzi called "an untold number of trees" encroaching along the runway. In addition to initial efforts to widen the runway, the plan is to run millable timber through the vintage sawmill that has been reassembled on the Island. Milled planks will be used to construct a pilot shelter. "Frank knows of no project too small or too large," Capozzi said. Everything must be barged or flown to the island from the mainland, and visitors marvel at the fire tower that Frank located, disassembled, barged to the island and reassembled there, including a massive amount of concrete for its base.
Gary Davis cooked breakfasts for the crew of two dozen folks, including his son, RAF Georgia Ambassador Eric Davis, and RAF Georgia Ambassador Lou Furlong. Eric was dinner chef, including pork he'd cooked using Williams' Green Egg smoker for Saturday dinner, and as is typical, folks brought dishes to share.
The palm trees are challenging, as they're fibrous and collect sand. Williams keeps a saw sharpener on the island, and was very hopeful the crew could level a group of palms over the weekend. "The crew did it, and it was such a relief," Capozzi said.
Widening the runway is an ongoing project, and more work is planned for the April 14-16 weekend. "We ask everyone to bring a chainsaw and the food they need," he added. "The last group brought chainsaws, saving a tremendous amount of time. Seemed they were happy to have a mission to use their new saws."
"Even though I'm from Florida they always make me feel very welcome here in Georgia," Capozzi added. Eric and Gary Davis have overseen many project improvements to the island location. There are three bunkhouses, and the camping area includes flush toilets, showers, a picnic pavilion and fire ring. Pilots can use the solar-powered weather station and cameras for flight planning.
Anyone desiring to fly-in during non-scheduled events MUST obtain permission from the owner 24-hours prior to arrival to obtain a runway report at 912-269-5194. No landings are authorized outside of scheduled events unless you have spoken with the owner. This is a safety requirement. Pilots must review the airport briefing before operating on this field in the Airfield Guide.
Submitted on March 14, 2023.